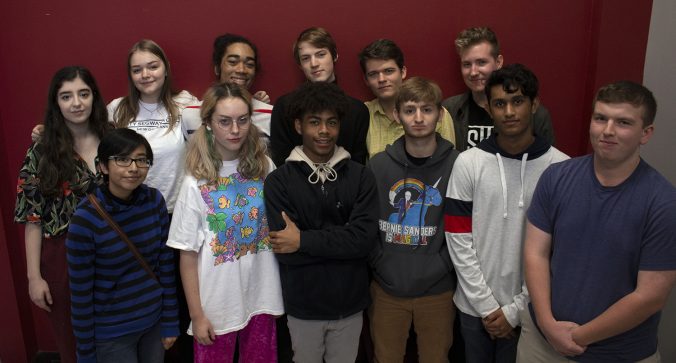 Sixteen students from Kinder High School for Performing and Visual Arts were named 2019 YoungArts winners by the National YoungArts Foundation, which identified them as some of the nation's most promising young artists in visual, literary, design and performing arts.
Two Kinder HSPVA students, Deena Fahed – Visual Arts and Katherine (Kate) Kortum – Jazz Voice, were named finalists and will have the opportunity to participate in the 38th annual National YoungArts Week on January 6-13 in in Miami. Finalists are also eligible for nomination to the White House-appointed Commission on Presidential Scholars.
YoungArts winners receive cash prizes of up to $10,000, access to mentors and opportunities to share their work with the public at renowned institutions such as the John F. Kennedy Center for the Performing Arts (Washington, D.C.), The Metropolitan Museum of Art (New York), Baryshnikov Arts Center (New York) and New World Center (Miami). YoungArts winners also gain access to financial, professional and artistic development opportunities throughout the course of their careers.
The National YoungArts Foundation, which aims to identify and nurture the most accomplished young artists, recognized 710 students from across the United States. Winners were selected from thousands of applications and represent artists from 44 states.
Below is a complete list of YoungArts 2019 winners from Kinder HSPVA:
Finalists
Deena Fahed – Visual Arts
Katherine (Kate) Kortum – Jazz Voice
Honorable Mentions
Benjamin Byrd – Jazz Guitar ('18 alum)
Almog (Mogi) Taylor-Sheinman) – Jazz Alto Sax
Elia Adams – Theater
Ashitaka (Ashi) Porter – Theater
Maurielle Mcgarvey – Playwriting
Merit
Naveen (Nino) Aiyer – Jazz Percussion
Augustus (Gus) Allen – Jazz Double Bass ('18 alum)
Phineas Davenport – Jazz Piano
James Donovan – Jazz Double Bass
Marwan Ghonima – Jazz Double Bass
Sasha Ripley – Jazz Tenor Sax
Brooke Wyatt – Jazz Piano ('18 alum)
DeCarte Washington-May – Photography ('18 alum)
Izabella Sifuentes – Poetry