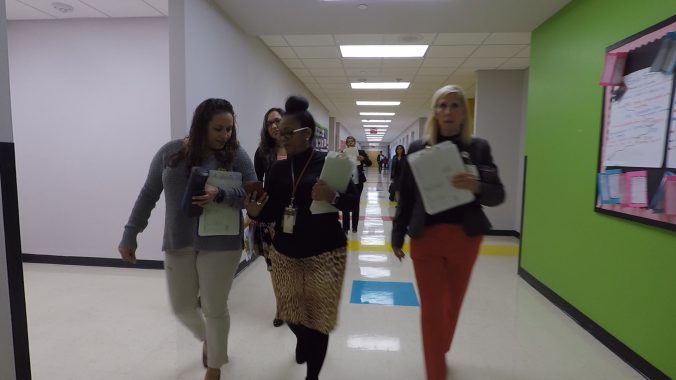 It may appear as a normal day at school for students at Achieve 180 campuses, but for administration and staff, it's a day known as Community of Practice.
This special day, unique to the Achieve 180 program, serves as a bridge between district employees to provide hands-on support to staff at underserved campuses needing extra support.
"Community of Practice is an opportunity for our team to be able to really see where the areas of support are needed in a much greater capacity at our Achieve 180 campuses," Achieve 180 Area Superintendent Felicia Adams said.
A caravan of support
Having launched last school year, the Achieve 180 program is a research-based action plan to support, strengthen and empower undeserved and underperforming schools in HISD feeder pattern communities.
On a typical day of Community of Practice, a caravan with more than 15 employees arrives representing different departments — from special education services to community engagement to conduct classroom and office visits — that might include data-diving, instructional reinforcement, and social and emotional support.
"In the past, we might have wanted to focus solely on homelessness to improve student achievement at an Achieve 180 campus," Adams added. "However, with this initiative, we are able really get in the weeds and identify other areas of support that might include increased medical services or a designated wraparound specialist as part of their improvement plan."
The visits also include both the district staff and on-campus staff collaborating and identifying target areas of improvements and performance indicators that will provide solutions to increased student achievement.
Achieve 180 organized by tiers 
In its second school year since its launch, the Achieve 180 program has undergone restructuring to better support the program's campuses. There are nearly 50 campuses organized by tiers—Tier 1, 2 and 3, that receive an increased level of support from district leadership and staff compared to other campuses.
A campus identified as "Tier 3" is also known as the district's improvement required campuses, which includes 12 specialized campuses receiving an aggressive level of support to quickly turnaround their school's academic performance to avoid a state takeover.
"Tier 2" campuses are newly identified improvement required campuses with an extended timeline for improvement, followed by Tier 1 campuses labeled as former improvement required within one or two years.
This is why Community of Practice remains a priority for Adams in supporting each campus at every tier, including those that have transitioned out of improvement requirement.
Though these schools may not no longer need a greater level of support like one at "Tier 3," Community of Practice remains ongoing to ensure the campus keeps its status out of improvement required.