Vote now in Round 2 for elementary and secondary finalists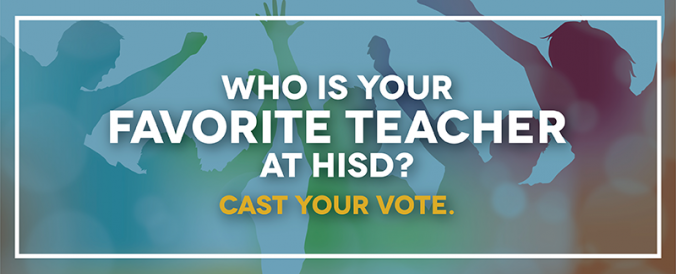 Over the past week, HISD staff, students, and alumni have voted for their "Fan Favorite" Teacher of the Year.
Voters could choose from any of the campus-based Teacher of the Year nominees. The votes are now tallied, and the top four elementary and secondary teachers are moving on to round two. The finalists are:
Elementary
Ana Orozco from Carillo Elementary
Latasha Hurd from Frost Elementary
Teresa Mendoza from DeChaume Elementary
Kali Schiska from Sutton Elementary
Secondary
Kathie Jackson-Guillory from Fleming Middle School
Jerisha Buntyn from West Briar Middle School
Stella Cunningham from Scarborough High School
Jose Clemente from Westbury High School
Click the button below to vote for your Fan Favorite elementary and secondary teacher from among the finalists.
Voting ends at 11:59 p.m., on Friday, May 3.
The winners, along with the district's elementary and secondary teachers of the year, will be announced on Friday, May 17, at the Educators of the Year banquet at The Hilton Americas.