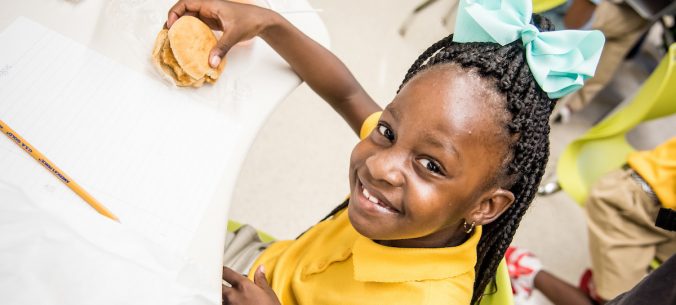 HISD Nutrition Services will be kicking off its Summer Meals Program June 5 at more than 250 area schools. Children ages 1 to 18 can enjoy a healthy breakfast and lunch at no charge through July 3.
Children do not need to be enrolled in summer school to participate in the program, and no paperwork, registration, or proof of income is required. Adults can also participate by purchasing breakfast for $2.75 and lunch for $4.
All HISD meals are nutritionally balanced to ensure children receive the vitamins and nutrients needed to maintain a healthy diet. Last summer, HISD Nutrition Services served nearly 1 million free meals to Houston-area children.
According to Nutrition Services Officer Betti Wiggins, offering summer meals is a critical component of the department's overall school nutrition program.
"For some kids, summer can be the hungriest time of the year," Wiggins said. "We want to ensure that kids in our communities have access to a healthy breakfast and lunch meal even when school is out."
A list of summer meal site locations is available at http://www.houstonisd.org/summermeals. Parents can also contact Nutrition Services at 713-491-5944 for more information. Some campuses will begin serving meals on June 4. For school-specific information such as serving start date and times, please call the school directly.
For information on where to find free meals after July 3, contact the City of Houston Parks and Recreation Department at 713-676-6832 or dial 2-1-1.