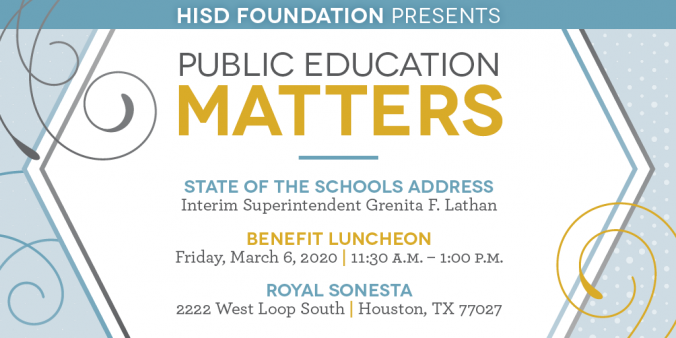 The Houston Independent School District Foundation, a nonprofit organization that raises funds to support HISD's strategic initiatives, will hold its Public Education Matters Benefit Luncheon on Friday, March 6.
The event will highlight the importance of community investment in public education and focus on the social and economic impact that results when public school students receive a quality education.
The lunch program includes the State of the Schools Address with HISD Interim Superintendent Grenita Lathan, followed by a panel discussion with Dr. Lathan and former New Jersey State Commissioner of Education and Superintendent of Newark Public Schools, Chris Cerf. Chris was appointed superintendent for Newark while it was under state control. Together, he and Dr. Lathan will discuss how large school districts can embrace change, prosper amidst uncertainty, and achieve best-in-class student outcomes. Stephen Klineberg, Founder of the Kinder Institute, will facilitate the discussion.
The luncheon will take place from 11:30 a.m. to 1 p.m. at the Royal Sonesta Hotel in the Galleria area (2222 West Loop South, 77027) and will be live-streamed on HoustonISD.org. Beginning 11 a.m., the 2020 winners of the Foundation's annual Innovation Fund Awards program will be featuring their programs.
Funds raised at the benefit lunch will go directly to the HISD Foundation to support strategic student-centered initiatives like the Innovation Fund, which financially supports community gardens, robotics, coding, and literacy programs.
Tickets are available for purchase at HoustonISD.org/PEM