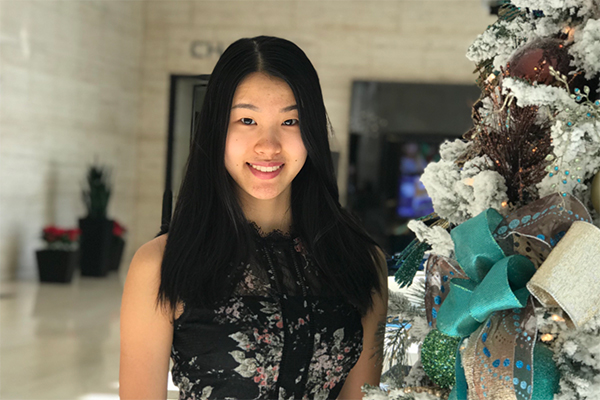 A Bellaire High School senior was recently named a winner of the Gloria Barron Prize for Young Heroes for her work connecting those who may go hungry with those who can supply free, nutritious food.
Annie Zhu is one of only 15 winners of the prestigious award that recognizes inspiring, public-spirited young people from diverse backgrounds who live in North America.
Zhu is the co-founder of Fresh Hub, which collects food from Houston-area grocery stores and bakeries and then distributes it to Houston neighborhoods that have been deemed food deserts. To date, Fresh Hub has collected 10,000 pounds of food and distributed it to more than 1,400 people.
The Fresh Hub app, coded by Zhu, notifies people of the monthly markets. Her inspiration came after she volunteered at a homeless shelter and noticed it served primarily canned food, and then later when she saw the amount of fresh food discarded as she helped repair a grocery store hit by Hurricane Harvey.
"My frustration over the unfair circumstances built into society has led me to meet incredible people," Zhu said. "I know I'm not alone on this journey to help the underserved – and I know my journey has only just begun."
Zhu and her team of 100 student volunteers at Fresh Hub first established a partnership with the Houston Health Department, and now works in partnership with Second Servings, a local nonprofit, that has helped the group connect with stores like Trader Joe's willing to donate surplus food. Fresh Hub also connected with human service agencies that agreed to attend monthly markets to provide support beyond food.
Zhu's work helped her realize the relationship between food insecurity and educational inequity – and inspired her to launch Readiness Across Mathematics (RAM). An extension of Fresh Hub, RAM has already helped nearly 100 underserved students improve their math skills through monthly workshops, one-on-one tutoring, and online programs.
For more information about the award, visit https://barronprize.org.