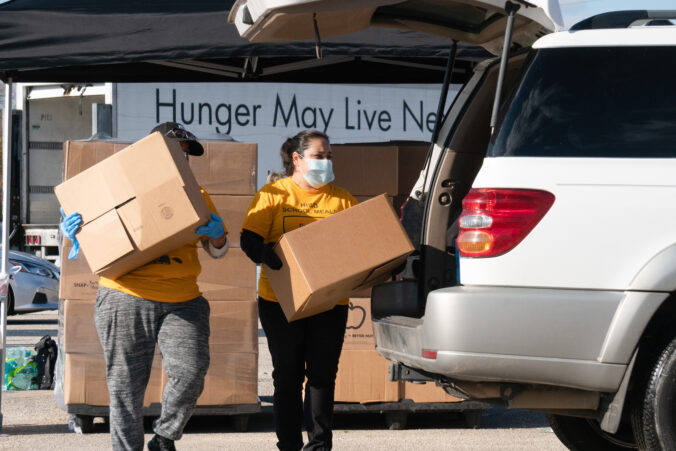 The Houston Independent School District is streamlining its student meals and community distribution efforts for the Spring 2021 semester.
After reviewing data through the fall, Nutrition Services is closing a dozen curbside student meal pick up locations with extremely low-to-no participation. The move is designed to allow the department to focus food and resources at the most populated sites were the need is greatest.
All 12 locations will provide seven days' worth of meals on their last day of operation — Thursday, Jan. 28, 2021. Each is also within 2.5 miles of a neighboring distribution site.
Additionally, Neighborhood Supersites scheduled for Saturdays will shift their operating hours to the morning and add two new locations to better serve families. These changes take effect Saturday, Jan. 30, 2021.
Curbside Pickup
Campus curbside pickup will continue to operate Mondays and Thursdays at schools strategically located throughout the district. Apartment complex curbside pickup also will continue daily at rotating locations. Each site provides several days' worth of student meals.
Closing Sites: Berry, Codwell, and De Chaumes elementary schools; Clifton, Fondren, and Forest Brook Middle Schools; and Kashmere, Madison, North Forest, Wheatley, Wisdom, and Worthing high schools.
Families serviced by the closing sites can view an interactive map to find their closest neighboring site.
Neighborhood Supersites
Neighborhood Supersites provide a week's worth of student meals as well as various food and household supplies for the community. They will continue to operate on Wednesday and Saturdays. Times and locations listed below.
Wednesdays from 2 to 6 p.m.
Barnett Stadium, 6800 Fairway Drive
Saturdays from 10 a.m. to 1 p.m.
Hattie Mae White Educational Support Center, 4400 W. 18th St.
Hexser T. Holliday Food Services Support Center, 6801 Bennington St.
Sugar Grove Academy, 8405 Bonhomme Road
M.C. Williams Middle School, 6100 Knox St.
Almeda Elementary School, 14226 Almeda School Road
Student meals are available at no cost to students between the ages of 1 and 18. If children aren't present in the car, families must have a birth certificate or proof of enrollment — student ID, report card, etc. — in any school district for each child needing meals.
For an up-to-date list of distribution times and locations, visit HoustonISD.org/StudentMeals. Families are encouraged to check the website for temporary closures before going to any location.