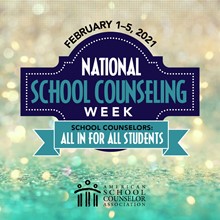 National School Counseling Week, Feb. 1-5, is an opportunity to recognize the impact that school counselors have in helping students achieve academic success and plan for careers.
School counselors play a vital role in the lives of our scholars. They also help students and their families find solutions to real-life problems and point them toward additional community resources. This is especially true when short-term counseling can be offered in a school environment.  
The theme for NSCW this year is "School Counselors: All in for All Students." The Houston Independent School District would like to celebrate this week by highlighting the tremendous impact school counselors have in helping students achieve school success and plan for a career.
On Friday, Feb. 5, from 2-4 p.m., HISD will have a drive-by parade at Delmar Stadium, with a few special guests. Employees may join in this celebration by registering in OneSource (Course #1448140).
During the parade, there will be a car decorating contest, awarding the best entry that shows school spirit and represents school counselors.
Please click here to view a list of suggested activities to highlight school counselors' work.
For more information, visit the website for the Academic & Career Counseling Department.