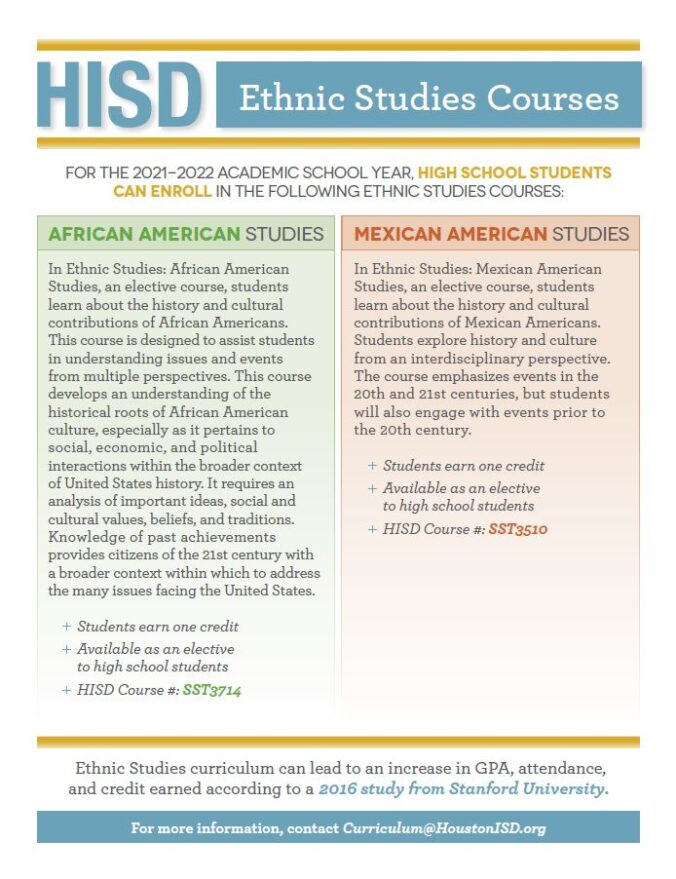 High school students in Houston Independent School District have the chance to enroll in two Ethnic Studies courses for the 2021-2022 school year. Students can choose from African American Studies or Mexican American Studies.
A 2016 study with Stanford University showed that such courses can improve performance with students at risk of dropping out. The researchers found that the courses increased students' attendance by an average of 21 percent and increased their GPA by an average of 1.4 grade points.
In African American Studies (HISD Course #SST3714), students learn about the history and cultural contributions of African Americans, developing an understanding of the historical roots of African American culture, especially as it pertains to social, economic, and political interactions within the broader context of United States history.
In Mexican American Studies (HISD Course #SST3510), students explore history and culture from an interdisciplinary perspective. The course emphasizes events in the 20th and 21st centuries, but students will also engage with events prior to the 20th century.
Both courses offer one credit and are available as an elective to high school students across the district. For more information, contact Curriculum@HoustonISD.org.