On Monday, the hip-hop world and HISD came together to help give back to the community at two separate events. At Wheatley High School, one of the biggest rap stars of the 2000s, 50 Cent, took his philanthropic efforts to HISD with the G-Unity Business Lab Kickoff.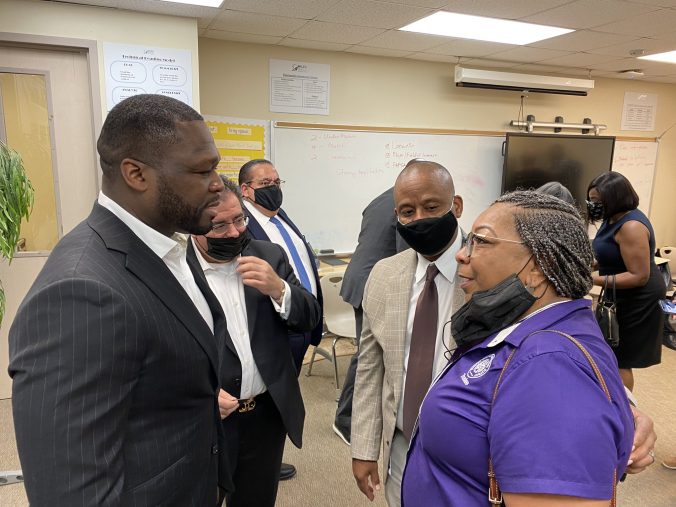 The G-Unity Business Lab Kickoff is part of a partnership between G-Unity Foundation and HISD. At the event, Mayor Sylvester Turner, Superintendent Millard House, HISD Board of Education members, HISD staff, Representative Alma Allen, State Board of Education member Lawrence Allen Jr., and Horizon United Group Vice President Al Kashani joined 50 Cent and his foundation to induct 75 "G-Star" students from Wheatley, Worthing, and Kashmere high schools. The G-Unity Business Lab fits in with Mayor Turner's "Complete Communities Initiative."
The students involved in the program voiced their appreciation for the G-Unity Business Lab coming to HISD. Student Dunley Sanders wants to use the experience to eventually open a funeral home with his mother.
"It's a better way to put us in a position to brighten our future," said Sanders. "We are just trying to take advantage of it while we can."
G-Unity Business Lab aims to educate youth in urban areas with an educational focus on business and entrepreneurship aligned with MBA concepts in an after-school program that will run 12 weeks and feature mentorship from accomplished business leaders. At the end, students will compete in a "Shark Tank" style competition called "The Hustle Tank." The pilot program is co-funded by the G-Unity Foundation, which is investing $300,000 over two years, with HISD matching the funds for a total of $600,000.
"This program aligns with HISD's vision to equitably educate the whole child by providing the academic and non-academic supports necessary to ensure that our students can compete in the global economy," said Superintendent House.
At Fleming Middle School, "Reading With A Rapper" co-founder Jarren Small, HISD Chief of Staff Silvia Trinh, and representatives from BET and Foot Locker talked about the importance of literacy, representation, and quality education. The "Reading With A Rapper" program uses technology, socially conscious lyrics, and video to relate to ELA content. Part of the technology push includes noise-canceling headphones and Microsoft's Surface Pro tablets.
There was a fun surprise at Wheatley, too, as 50 Cent performed an impromptu mini-performance of his hit "In Da Club" for Mayor Turner's birthday.
Living in Houston now, 50 Cent specifically targeted HISD schools to be part of the G-Unity Business Lab.
"The program is providing opportunities that weren't there when I was in school, so it is me giving back, and I have the right team around me," 50 Cent said. "I know I can reach these kids in a different way–to get kids that wouldn't necessarily want to participate in an after-school program, to do something that is positive energy."