As HISD continues to monitor district safety protocols, HISD has made some updates to the 'Ready, Set, Go' plan. In consultation with medical experts, education professionals, and district administration, the updates made are to ensure that in-person learning and working continue to be as safe as possible during the 2021-2022 school year.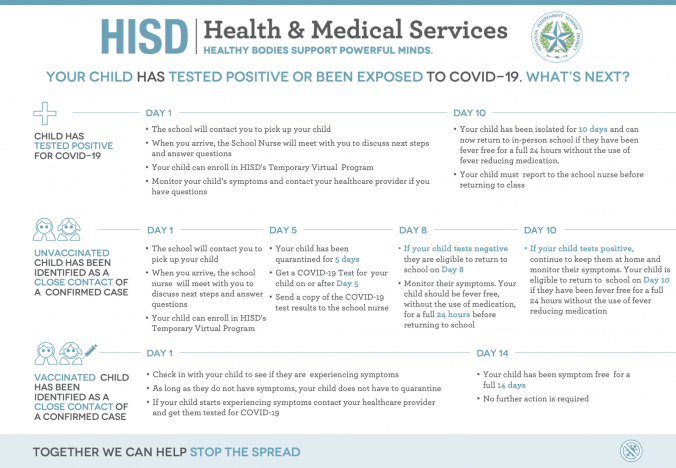 Beginning Monday, Oct. 11, the following updates are effective:
Isolation and Quarantine Protocols: An individual will isolate or quarantine based on the following:

a. Isolate: Confirmed to have COVID-19 or showing symptoms of COVID-19.
b. Quarantine: Identified as a close contact of a confirmed COVID-19 positive case.

COVID-19 Positive Case Notifications: In alignment with TEA requirements, all students and staff in the same class as a COVID-19 confirmed positive individual will be notified of the positive case, regardless of contact status (i.e., close contact, non-close contact, etc). Identified close contacts will receive additional communication with next steps.
Alignment of Terminology: We will keep terminology consistent with the Centers for Disease Control and Prevention (CDC) on the following key definitions:

Close Contact: Individuals who are less than six feet away from an infected person (laboratory-confirmed or a clinical diagnosis) for a cumulative total of 15 minutes or more over a 24-hour period (for example, three individual 5-minute exposures for a total of 15 minutes) from two days before illness onset (or two days prior to test specimen collection for asymptomatic individuals), until the time the patient is isolated.
Isolation: The separation of a person or group of people known or reasonably believed to be infected with COVID-19 and potentially infectious from those who are not infected, to prevent the spread of the virus.
Quarantine: The separation of a person or group of people reasonably believed to have been exposed to COVID-19 but not yet symptomatic from others who have not been exposed, to prevent the possible spread of the virus.
Houston ISD's 'Ready, Set, Go' plan provides comprehensive protocols for safe in-person learning and working. Created with health and well-being at the forefront of decision-making for students, families, staff, and the community, the plan includes required masks in all HISD buildings, constant sanitization of surfaces, COVID-19 vaccination sites, testing, and physical distancing.