For many, the dream of being a professional musician starts young, but it isn't always about being a big star but having a passion for the arts. The sonic passion of some of HISD's most-talented students is on display at an unlikely venue for music performances—the library.
In 2016, jazz students at Kinder High School for the Performing and Visual Arts wanted a setting that would be fitting to express their creative outlet, and it ended up being their library. What would soon follow was another version of what HSPVA calls "Happenings," which were live music events generally held in the commons. Subsequently, the idea evolved into the "Library Desk Concert" (LDC). Since then, the LDC has been a hit.
"The kids loved it from the start, and it grew and remained popular," said librarian and newspaper/yearbook adviser Jeff Turner, who oversees the concerts.
The LDC was influenced by the popular NPR "Tiny Desk Series" during which big-name acts perform on an intimate set at NPR's office. Performers have included Taylor Swift, the Jonas Brothers, Miley Cyrus, and Jimmy Eat World.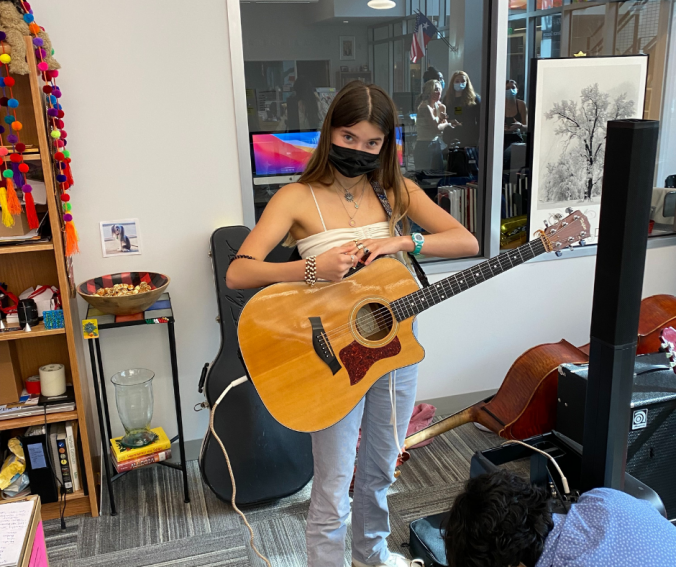 The LDC has its own board of student members, who review student applications to perform and then select the performers. To get an idea of how popular the event is, this school year's concert slate has been fully booked. LDC Board President Nicole Rodriguez, a junior, and the student board look for original music by students who can showcase their love of their art, which allows full independence to put on the lunch-time monthly series.
"It's mostly all led by students, and gives us a chance to be independent," Rodriguez said. "It's not just about preparing for the performance but 'backstage' and how everything behind the scenes works."
Students can choose from covers of popular songs to original renditions and are accompanied by a full band. The events are live streamed on Instagram. While most students who perform at the LCD are vocalists or instrumentalists, last year they incorporated a creative writer and did a poetry slam.
The students perform their original song with a "house" band of board members. Senior Zachary Lloyd from the jazz department is a drummer in the house band and a board member. One of his biggest jobs is working with the artist and their set.
"I like getting into whatever they are into and helping produce the concert," Llyod said.
The latest LDC set featured performances from an original song in Spanish performed by Rodriguez, junior Jeffrey Kepfer's ballad "Fell From Heaven," junior Leo Sandoval's cover of Stevie Wonder's "Golden Girl," and senior Emma Ogier's "The Feeling Of Falling." "The Feeling Of Falling" was written on the fly just minutes before her LDC performance; the stripped-down song showed songwriting maturity beyond Ogier's years.
While the students take the event seriously, they still have fun showcasing their talent.
"It allows students from every art area to perform their music and share their creative outlets," said Rodriguez.
Watch performance: