For Houston Rockets newcomer Armoni Brooks, planting seeds and giving back to the Houston community is part of his roots. The Waco-born former University of Houston Cougar was joined by teammates Kenyon Martin Jr., Joshua Christopher, Rockets staff, mascot Clutch, and members of the military on Tuesday for the Hoops For Troops event at Oates Elementary School. The event was a beautification project that saw the military and Rockets organization roll up their sleeves and work on the Oates grounds by painting the basketball court, pulling weeds, replacing benches, power-washing the walls, and adding new flower beds.
"Just being able to give back to the community is a big part of what we wanted to do when we chose this profession," Brooks said. "Being able to do it in the local community means a lot, and I'm sure it really means a lot to the kids and the families and everyone that is involved."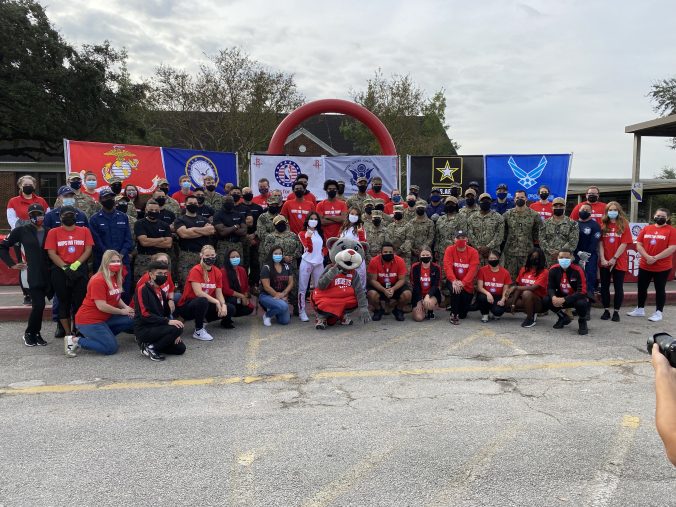 The Rockets players and Clutch also visited classrooms to surprise the students. Clutch, one of the world's most famous mascots, sat down with students and gave out high fives and hugs. Oates was chosen as part of HISD Wraparound Services and Community Partnerships to be the host for Hoops For Troops. They only found out a few weeks ago they had been selected by the Rockets.
"Just to see the Rockets organization, along with all the veterans, support our students and build up the community is very inspiring," said Oates principal Melissa Melchor.
Members of the U.S. Army, Coast Guard, and Marines joined in just days before Veterans Day (Nov. 11) to give Oates a new look. Members of the Marines hope by setting an example of being selfless, the students also will be inspired.
"Helping out the kids is the biggest part of our future," said Marine Staff Sargent Christopher Broussard. "I've seen Marines come to my school when I was younger, and I felt like it was only right to do the same thing in return."
As Brooks' career is starting to blossom, Oates also had a similar growth on Tuesday. At the end of the day, as the new flowers bloomed in the beds, and the freshly painted lines on the basketball court gleamed in the sun, the students' smiles shined the brightest of all.