January is School Board Recognition Month (SBRM), and HISD is proud to honor its trustees for their steadfast service to the district.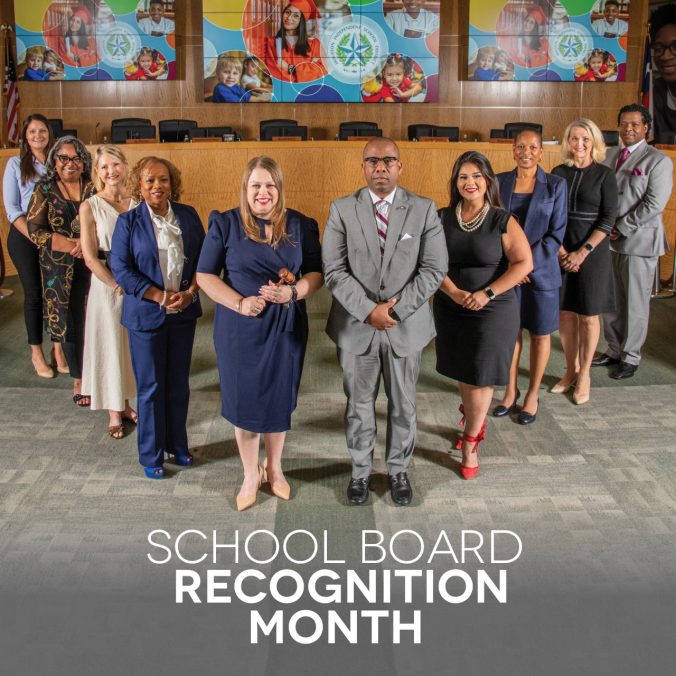 The HISD School Board consists of Board President Judith Cruz (District VII), First VP Elizabeth Santos (District I), Second VP Kathy Blueford-Daniels (District II), Secretary Sue Deigaard (District V), Assistant Secretary Myrna Guidry (District IX), Dani Hernandez (District III), Patricia K. Allen (District IV), Kendall Baker (District VI), and Bridget Wade (District VII).
The School Board is responsible for providing citizen oversight to decisions made in service of education in their districts. While education policy is ultimately decided by the state, the Texas Education Agency delegates much of the decision-making power to the trustees who represent their local communities.
This year, the SBRM theme is "Forward, Together" in celebration of the HISD trustees' commitment to advancing the district into a unified and prosperous future. Principals, staff, students, and parents can acknowledge their trustee by posting "thank you" messages on social media using the hashtag #SchoolBoardMonth.
Staff is encouraged to work with students on creative projects such as cards, notes, and posters utilizing the SBRM theme to show their appreciation.
Parents can also reach out to their PTA or PTO membership to pass a SBRM proclamation and present it to their trustee.
For educational materials, graphics, and more ideas on how to celebrate SBRM, please visit the Texas Association of School Boards website.
To learn more about HISD's trustees, visit the HISD Board of Education web page.