On Thursday, March 30, HISD's top hoopsters will battle it out on the court in the HISD All-Star Boys and Girls Basketball Game at Delmar Fieldhouse. The student teams will be led by the Westside, Worthing, Wheatley, and Waltrip High School coaches who will be joined by some surprise celebrity coaches.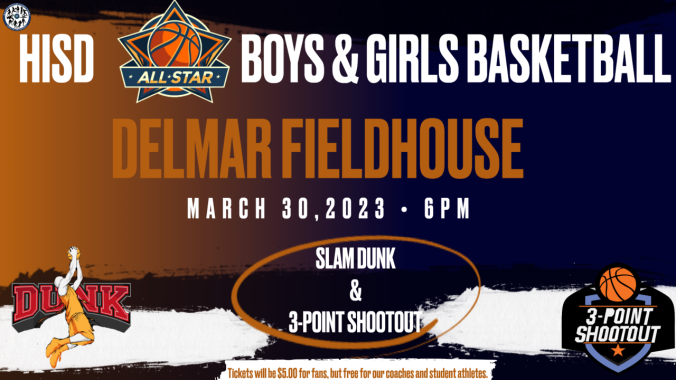 Between quarters, student-athletes will compete in a 3-point shootout as well as an exciting halftime slam dunk contest.
"I'm excited that our top student-athletes will have the opportunity to compete with and against each other," said HISD Athletics Director Andre' Walker. "Often, our athletes are not able to share the experience of playing together or against each other because of our three divisions. This is more than just an all-star game; we hope lifelong friendships are developed."
Tickets are $5 for fans, and admission is free for HISD coaches and student-athletes. Come out and show our All-Stars your support!
When:
Thursday, March 30, at 6 p.m.
Where:
Delmar Fieldhouse
2020 Mangum Rd.
Houston, TX 77092
Tickets:
$5 for fans
FREE for HISD coaches and student-athletes