Students in grades PK-12 enrolled in HISD schools who have yet to meet the promotion standards to advance to the next grade can do so by attending summer school, or Extended School Year (ESY) Services. ESY Services provide students with accelerated instruction to prepare them for success at the next grade level and keep them on-track to graduate alongside their peers.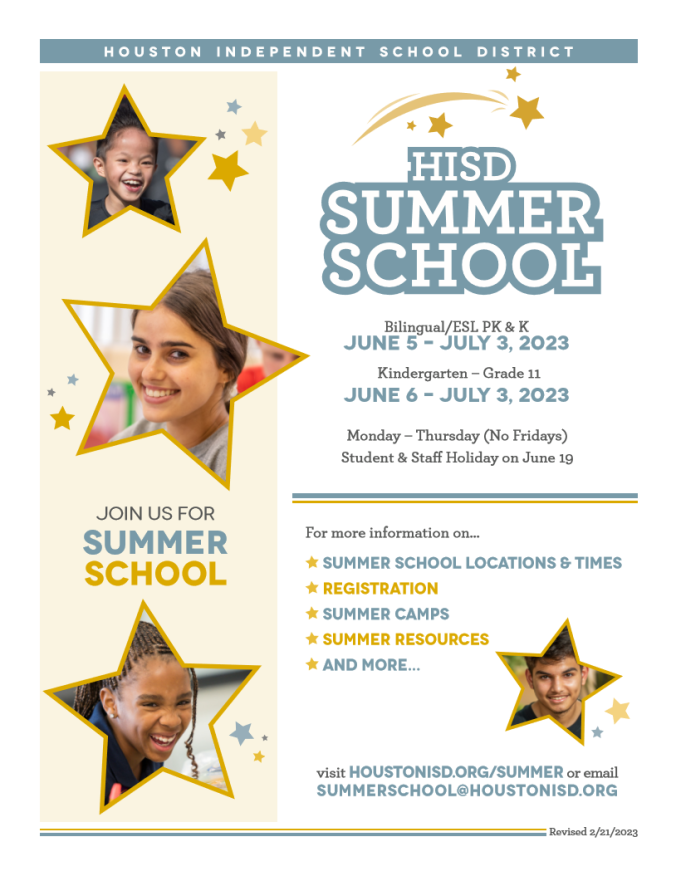 Dates and Times:
ESY Services take place Monday through Thursday (no Fridays). Student and staff holiday (no school) on June 19.
Grade Level:
Bilingual/ESL PK&K
June 5 – July 3
7:30 a.m. – 3 p.m.
Kindergarten – Grade 5; K-8
June 6 – July 3
7:30 a.m. – 3 p.m.
Middle School:
June 6 – July 3
8:30 a.m. – 2:30 p.m.
High School:
June 6 – July 3
8:30 a.m. – 3:10 p.m. (a.m. and p.m. session options)
Severe weather make-up day: July 5
School and Location Sites:
Click here to find your ESY location.
Summer Camps:
HISD also offers summer camp sessions for Athletics, Fine Arts, and STEM. Visit HoustonISD.org/summer for more.
Registration:
Summer programs are planned at the campus level. To register your student, contact their school directly.
If you have questions about your child's ESY Services location, contact your area senior manager or Nicole Savory. For more information on ESY Services or for any other questions, contact SummerSchool@houstonisd.org.