HISD's Special Education Department is in search of licensed and dedicated speech therapy professionals to join their team.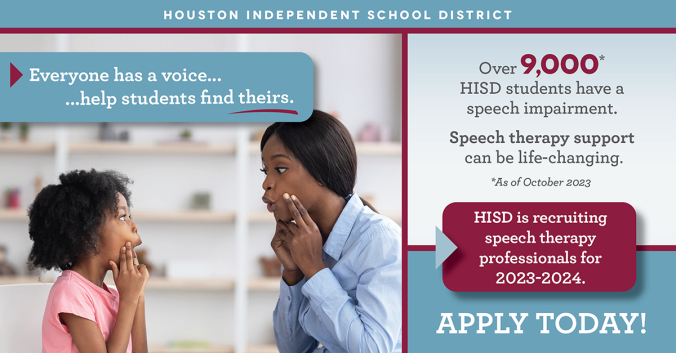 Speech Therapy is an integral component of the special education resources available to HISD students. Speech therapists and speech therapy assistants provide a vital service to maintaining an equitable learning environment for students at all developmental stages.
According to the Bureau of Labor Statistics, speech-language pathology is a rapidly growing career field with project job growth at 19% through 2032.
"Speech therapists provide specialized services to equip students with effective communication skills in the academic environment," said Keeva Price, Director of Speech and Language Services for HISD. "Speech therapy services are designed to support the individual needs of the student and break down any barriers that result from difficulties in the area of communication."
To apply to be an HISD speech therapist, click here.
To apply to be an HISD speech therapy assistant, click here.