Student artists were celebrated at an awards ceremony and reception for HISD's 32nd annual Holiday Greeting Card Competition on Tuesday, Nov. 15. Seventeen schools submitted one work of art for consideration, and three winners, along with two special recognition winners, were chosen by Superintendent Mike Miles to be featured on thousands of holiday cards that he will send to HISD's many community partners this year.
The five winning pieces of art were unveiled by the superintendent, and each artist was given the opportunity to say a few words about their process and what winning the competition meant to them.
12th grader Jocelyn Ajucum, winner of the high school category with her piece "Holiday Flock," has won HISD's Greeting Card Competition before. Inspired by animals and realism, Jocelyn felt that working on "Holiday Flock" helped her expand her artistic knowledge and that winning one final time in her senior year is the "cherry on top" of her high school experience.
The winning artists were presented with gift baskets provided by HISD community partner Raising Cane's, new Chromebooks, junior art classes with the Houston Museum of Fine Arts' Glassell School of Art, and 15 holiday cards featuring their own artwork for use this holiday season.
"For the District, this is a 32-year tradition, and it's honorable that we're able to celebrate, time after time, keeping the visual arts in the limelight," said Rickey F. Polidore, Curriculum Coordinator for HISD's Fine Arts Department. "It's a testament to all the hard work that the teachers and the campuses do every day in support of the arts."
The festivities were bookended with rousing performances from the Kinder High School for the Performing and Visual Arts's advanced mariachi band, Mariachi Los Pasajeros, and the KHSPVA jazz band.
Winning Artists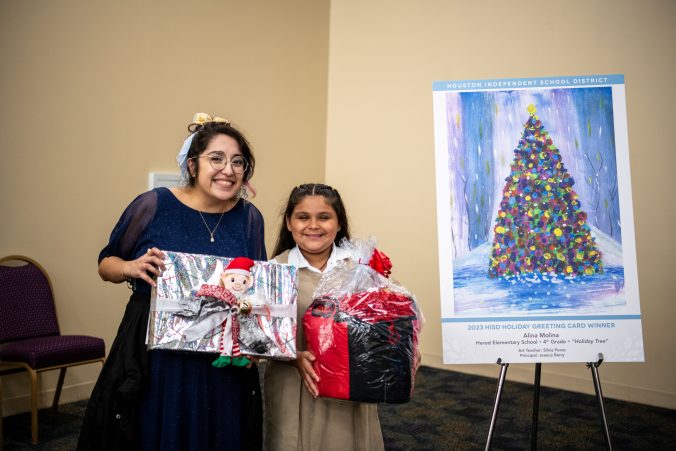 Alina Molina, 4th grade
Herod ES
"Holiday Tree"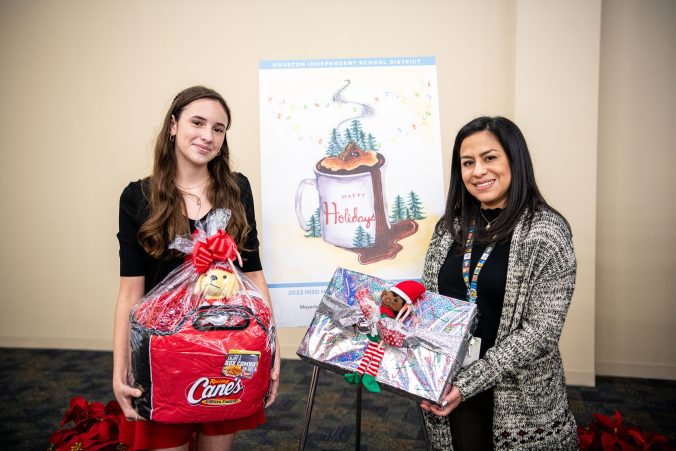 Stella Williams, 8th grade
Meyerland PVAMS
"Happy Holidays"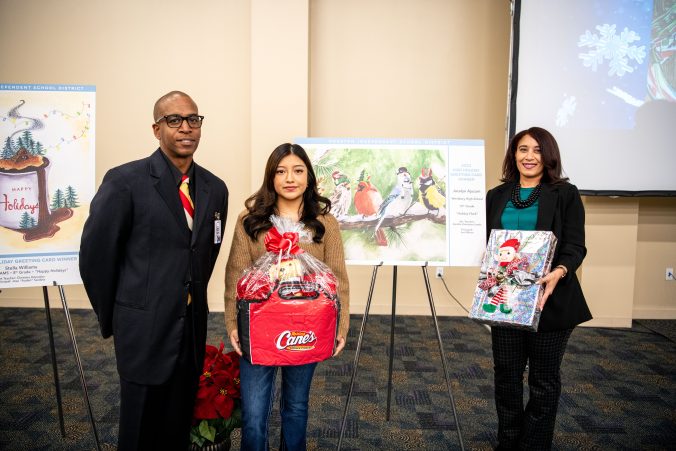 Jocelyn Ajucum, 12th grade
Westbury HS
"Holiday Flock"
Special Recognition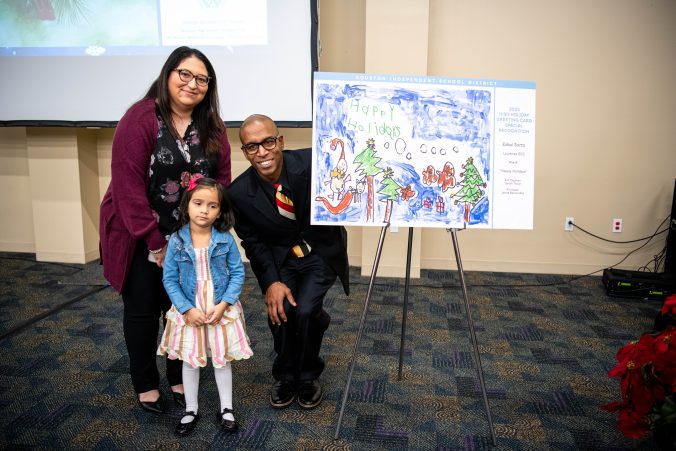 Ezbai Soto, Pre-K
Laurenzo ECC
"Happy Holidays"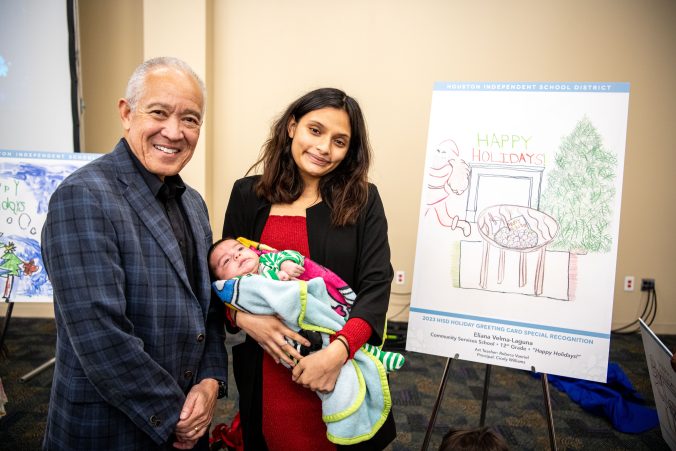 Eliana Velma-Laguna, 12th grade
Community Services School/Northside HS
"Happy Holidays!"
Other finalists include students from St. George Place ES, Briscoe ES, Eliot ES, River Oaks ES, Black MS, Gregory-Lincoln K-8, Lanier MS, Ortiz MS, Lamar HS, Chavez HS, Northside HS, and Waltrip HS.
For more information on HISD Fine Arts, visit their website or follow Fine Arts Curriculum Coordinator Chandel Bonner-Hancock on Twitter @Chandelart.