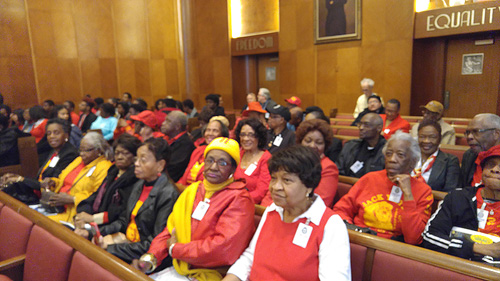 On Feb. 8, 1926, Jack Yates High School opened its doors as the second campus for children of color in the city of Houston. Ninety years later, Mayor Sylvester Turner issued a proclamation announcing Feb. 9, 2016, as "Jack Yates Senior High School Day."
Since its opening, the school has been a launching pad for world-renowned artists, athletes, politicians, and other figures. The school was named after a formerly enslaved reverend, who became an influential leader in Houston's Fourth Ward.
"A lot of good things came out of Yates," said Carolyn Simples, president of the Fabulous Fifties Yates alumni group, whose crimson and gold attire brought a celebratory mood at City Hall. "And [they] are still coming out of Yates."
One such product, 99-year-old alumna Maxine Williams, was present for the event. So, too, were 50 current Yates government students, hoping to witness the ceremony. They had the opportunity — through Congresswoman Sheila Jackson Lee and the help of Yates alumni and city attorney Arva Howard — to see the proclamation process from beginning to end.
"To get our kids involved and understand how government works, and get them involved in the process…for me, personally, it's kind of a highlight of the year," said Yates Principal Kenneth Davis. "Having a historically black school that receives a proclamation — this is something they'll always have and remember in the future. It's part of their history as well."
To see a sampling of Yates' distinguished alumni, please visit the district's Alumni channel.