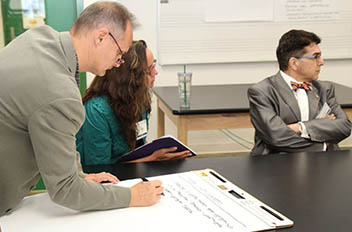 As the architects working under the district 2012 bond program start designing new schools, their goal will be to create 21st century, sustainable schools.
What that means precisely was the focus of discussion Monday at a half-day 'Sustaining Momentum' workshop, which laid out the goals and expectations of the district as it moves forward with the $1.89 billion bond program, which will  build or replace 40 schools across the city.
About 75 architects and designers attended the event at Berry Elementary School, which is a model for sustainable construction. The school was built under 2007 bond program to meet standards for silver LEED certification, also known as Leadership in Energy & Environmental Design, developed by the U.S. Green Building Council (USGBC).
"Our vision is to design sustainable facilities that create a healthy and rich learning environment," Dan Bankhead, HISD's General Manager of Facilities Design told the participants. "These campuses should be conducive to learning for our students and also manage resources efficiently."
He said the district wants all new schools in the 2012 bond program to achieve silver LEED certification.  To date, the district has 17 LEED certified schools, and another 13 pending.
The stakes are high, according to Anisa Baldwin Metzger, manager of USGBC's Center for Green Schools Fellowship Program.  Studies show that schools with better indoor air quality, high-quality acoustics, temperature control systems, and natural light help boost student and teacher attendance. A safe and healthy environment also helps boost student achievement, she said.
"The place that students learn affects the way students feel about the value their community places on them," Baldwin Metzger said. "It's a direct communication to students about the value we place on them and their learning."
Baldwin Metzger said incorporating sustainability goals into HISD's 2012 bond program will help underscore the importance of facilities to educational outcomes.
Green schools can also help conserve energy, which provide a cost-savings over the long run, according to Fred Wu, who introduced the CenterPoint Energy SCORE program, which helps organizations improve energy efficiency.
Architects at the event needed no convincing. During breakouts sessions, attendees created and ranked their top sustainability goals for the 2012 bond program.  The workshop was facilitated by Julie Hendricks, a senior associate and director of EcoServices at Kirksey.
The top goals among the participants were:
User Control of Environment –windows that can be controlled individually and daylight options that include the ability to change blinds and lighting by each teacher
Passive Strategies for Daylighting  and Energy Savings– energy efficient building orientation to naturally light and heat/cool campuses
Durability – creating schools with materials that will last 75 years
Benchmarking and Meaningful Commissioning – measuring the success and progress of the district's sustainability efforts
Building as a Community Partner– working to make the school the jewel of the community.
Bankhead said he was encouraged by the ideas and said Monday's workshop will be part of an ongoing conversation about sustainable buildings.
"The 2012 bond program is a tremendous opportunity to affect the Houston landscape and green facility designs," Bankhead said.
SHW Group Project Manager Ashlea Hogancamp said the ideas presented Monday are also a good starting point for conversations with the students, staff and community stakeholders at each bond campus. SHW was awarded the contract to design the new Sterling High School.
"You have to get the people that are going to use the building engaged upfront so you can continue to design and implement through construction," Hogancamp said.