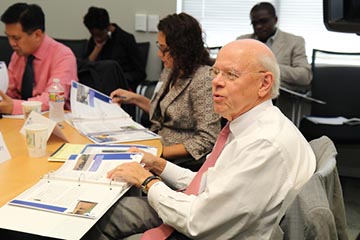 HISD's Bond Oversight Committee got a detailed look Tuesday at progress being made under the 2012 bond program to develop innovative 21st century learning environments.
"We fully intend to push the envelope much further than it's been pushed," said HISD's General Manager of Facilities Planning Sue Robertson.  She told the nine-member committee that the hallmarks of 21st century schools include flexible spaces that encourage collaboration and hands-on learning.
"We've moved away from the term 'classroom,'" said Robertson, who explained how each bond campus has a Project Advisory Team made up of students, staff and community members to help guide the planning and design process so that the new schools embrace innovation.
"The discussions are very robust," she said. "We have a lot of people who we need to move toward this goal."
Video provides inside look at HISD bond program
Tuesday's Bond Oversight Committee meeting marked the second for the newly reorganized group, and included information from the second quarter of the year. That time period was especially busy for the district as it works to finish up remaining projects in 2007 bond program and undertake planning and design work for the 2012 program.
The independent panel was established to monitor the district's bond programs, which includes ensuring that bond revenues are spent appropriately and evaluating the risks and controls of the bond program.
The group's charter was changed late last year to give it more oversight responsibility, via independent and periodic reports to the superintendent, the Board of Education and the general public.
Committee member Gary White, a certified public accountant and HISD parent, the Tuesday's conversation about 21st learning was helpful since the focus of the 2012 bond program should be education.
'We're not building for the sake of building," White said. He added that flexibility will be key. "We don't know what the future is, but I think we're having the right conversations to get there."
 The other committee members are:
Michael G. Davis, real estate broker and HISD parent
Martin Debrovner, community volunteer and retired executive
Jessica Diaz, community volunteer and HISD parent
Robert M. Eury, community development and nonprofit executive
D.V. "Sonny" Flores, engineering and construction management
Craig Johnson, education advocate and HISD parent
David J. Quan, attorney and member of HISD's Asian Advisory Committee and the Superintendent's Parent Advisory Committee
Phoebe Tudor, community volunteer, philanthropist, historic preservationist and HISD parent
On Tuesday, the committee heard that the district is on schedule to complete all work by the end of 2014 in the 2007 bond program, which encompasses more than 180 projects, including 23 new schools. Three of those schools are currently under construction with Dogan and Athertown elementary schools scheduled to open for students in August. Sherman Elementary will transition into its new facility during the fall semester.
Within the 2012 program, design firms have been selected for all 24 schools within the first two phases of construction. In addition, the district has hired program managers to help oversee construction. 
All of the architects selected so far in the 2012 program have committed to ensuring those buildings meet the standards for LEED (Leadership in Energy & Environmental Design), according to Dan Bankhead, HISD's general manager for Facilities Design.
On Monday, the district hosted a half-day program with all the design firms to review the district's green building initiative and develop common goals. "I can't tell you how excited these professionals are about starting these projects," Bankhead said. "Houston is going to get some outstanding 21st century learning environments."
Architects Help Craft Sustainability Goals for New HISD Schools
Bond Oversight Committee members also heard about the district's ongoing efforts to leverage Houston's diverse and talented workforce by encouraging participation in both bond programs from minority and women-owned business enterprises.
In the 2007 program, the M/WBE commitment from all firms has reached 35 percent. In the 2012 program, the contracts awarded to date reflect a 51 percent M/WBE commitment.
For a complete look at all second quarter reports presented during the meeting, click here. The July 2013 information can be found under meeting reports.
The next meeting of the Bond Oversight Committee will be Oct. 29 at 8:30 a.m.