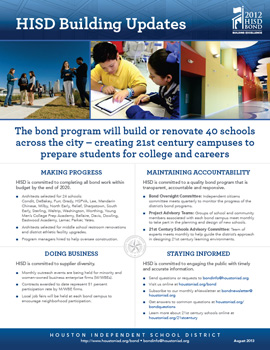 District residents will soon be receiving an update on the 2012 bond program in their mailboxes.
As the $1.89 billion building program gets underway, HISD administrators want to ensure that all stakeholders stay informed and have the opportunity to get involved.
Read the bond program update mailed to HISD households
"We are updating our website and social media channels frequently, but we understand that some people still like to get their information on paper," said Tiffany Davila-Dunne, HISD's chief communications officer. "We've made tremendous progress on the 2012 program, and we are moving forward quickly to create 21st century campuses for our students."
The bond program will build or renovate 40 schools, including 29 high schools. To date, architects have been selected for 29 projects, including 24 schools, middle school restroom renovations, and district athletic upgrades.
The professionals selected to work with HISD highlight the talent and diversity of Houston's workforce. Contracts awarded to date represent a 51 percent participation rate by minority and women-owned business enterprise firms.
HISD is committed to a quality bond program that is transparent, accountable and responsive.  The Bond Oversight Committee is an independent citizens group that meets quarterly to monitor the program. In addition, each bond campus has a Project Advisory Team made up of school and community members to take part in the planning, design and construction of the new or renovated facilities. Finally, the district has convened a team of experts with its 21st Century Schools Advisory Committee to help guide HISD's approach to designing  schools that will serve Houston's students for generations to come.
"Our goal is not to rebuild the kinds of facilities we've had for the past 50 years but to create 21st century schools that prepare students for the future," HISD Superintendent Terry Grier said in a letter to residents.
To learn more about the bond program, please subscribe to our monthly eNewsletter at bondnewsletter@houstonisd.org and visit us online at www.houstonisd.org/bond.