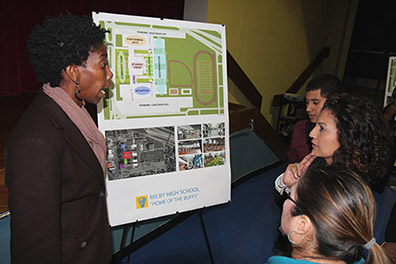 More than 150 parents, teachers, students and alumni of Milby High School turned out Tuesday night to learn more about the preliminary designs and concepts for the new school being funded by the 2012 bond program.
Milby is slated to be rebuilt into a 21st century facility while maintaining the campus's architecturally significant building structure. On Tuesday, HISD staff and the school's architects fielded many questions about the project, including size, classrooms and athletic fields.
"My concerns are the size of the classrooms," said Milby alumnae Becky Arcizo. "They need to make sure they are utilizing every space they have and leaving space for future growth, not reducing it."
Tuesday's meeting was the first of at least three community meetings that HISD will hold at Milby to gain additional input from parents and community members to help guide the final plans for the school.
"Normally at the end of the process, we hear what everyone doesn't want," said the school's trustee, Manuel Rodriguez Jr. "We need to hear that at the beginning. We need good input because we want to know what you want this school to be."
One of the topics addressed was the capacity of the new school. Milby has an enrollment of a little more than 2,000, and proposed designs show that the new campus will be rebuilt to serve up to that same amount of students.
"We're shooting for a multipurpose space," said Milby principal Roy Edmo De La Garza. "We're building flexibility into the new building. Our plan is to take spaces we normally use for short periods of the day and use them more effectively."
Designing the school with flexible and collaborative learning areas will allow students and teachers to reconfigure spaces into individual and group work areas. Learning spaces can also be combined with a space next door to merge a class.
"This school will be better organized than the school you have … with classrooms that are bigger than the classrooms you have and teaching areas that are better than the ones you have," said HISD General Manager of Facilities Planning Sue Robertson.
For the past three months, HISD facility planners and architects from Kirksey Architecture, have been evaluating the site location and environment, including traffic, noise and air quality. They've also been meeting with the school's Project Advisory Team (PAT) to discuss and plan the design vision of the school with faculty and students.
"We want to keep our school traditional, but we want to have an updated campus, too, with the latest technology," said Milby student Sandra Miranda, a member of the PAT.
Students on the PAT also want the school to have more natural light and green spaces. Architects are hoping to preserve some of the trees on the current campus to include in a park that they're proposing for the middle of the school. Preserving the history of the campus will also be a priority.
"I care a lot about Milby because of my family's deep roots to the school," Arcizo said. She attended the meeting with her husband, who's also an alumni of the school. The couple has four children who have graduated from the school, too. "I hope the designers truly listen to the community's concerns."