Nearly 100 people turned out this week to weigh in on proposed design concepts for Worthing and Sterling High Schools during community meetings held at each campus.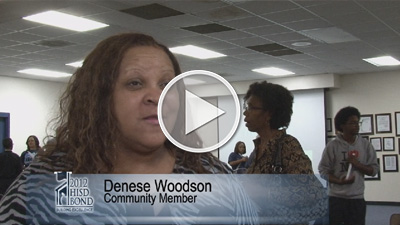 Both schools are slated to be rebuilt under the 2012 bond program, which was approved by voters in November 2012.
"This is an exciting time for Sterling," Principal Dale Mitchell told the audience of more than 40 at his campus on Monday.  "It's very important that you're here and giving your feedback."
At Worthing, more than 50 people turned out Tuesday for the first of three community meetings to be held at each bond campus. The goal is to gather additional input and feedback from parents and community members at critical stages in the school's planning, design and construction. 
"Sunnyside is a historic African-American community, and Worthing has always been a cornerstone of Sunnyside," said Worthing Principal John Modest. "We need a building that can stand the test of time and be used well into the 21st century."
At both events, architects and HISD planners emphasized the importance of creating facilities that will support 21st century learning. Such schools feature paces that are open, transparent, flexible and support different learning styles.
At Sterling, the goal is to create a facility that supports and enhances the school's aviation program. The draft design features a central common area for the school, known as the hangar, to give students a place for hands-on learning.
"We're going to make sure that our students not only know how to fly the planes, but build the planes and power the planes," Mitchell said.
Parent Denese Woodson said she liked what she saw on Monday. "It's so important for this community. We don't want to bus our kids."
Alumni Terrie Green, who graduated from Sterling in 1985, also likes the aviation program, but emphasized the need to create a school that will appeal to all students. 
Parents and students at Worthing also shared ideas of what they'd like to see in their new facility.
"The future students of Worthing need a design that can grow and change with them," said Worthing student Heaven Murphy, who said she would like to see the school have a daycare center, weight room and practice facility for the school band.
Worthing alumnae Cynthia Gale Johnson wants the new school to boost and enrich academics as well as provide a community connection.
"It's a beautiful idea, but you can't build something without considering the culture of the community," she said. "The aesthetics are critical, but the educational programs and extracurricular activities are even more important."
HISD staff and architects will take the input gathered from the community meetings back to the Project Advisory Teams for their consideration.