HISD supplier diversity team members were at a workshop Thursday on growing small businesses to talk to minority- and women-owned business owners about applying for district building contracts.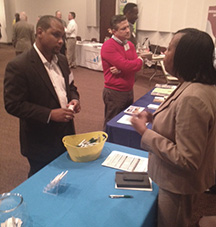 HISD was one of 25 vendors that participated in the fourth annual Small Business Summit held at Houston Community College. The event, attended by more than 200 people, featured presentations on leadership, exporting services, financial and social media skills and entrepreneurship. 
"You could reach out directly to the school to pitch your product or you could go through our RFP (Request for Proposal) process," HISD supplier diversity specialist Vanessa McGinnis told an event attendee.
Keynote speaker Johnny Earle, who founded a multimillion-dollar T-shirt brand called Johnny Cupcakes, offered advice to the entrepreneurs about standing out among their peers.
"If you're going to open or start a business, always make sure you're doing at least 10 things differently than other businesses in that industry," Earle said. "Think about what makes your business unique. People have too many options today. Ask yourself, 'Why would they take a risk on you?'"
Aaron McCloud, owner of the education services business Pathways to Greatness, said his company could be a unique subcontractor for HISD because the business offers STEM (Science, Technology, Engineering and Mathematics) tutoring and programs geared toward inspiring more students to work in these fields.
"There's a big push to get more STEM programs and talent into schools today," McCloud said. "This event was insightful, and HISD was a resource because I understand the (certification and RFP) process better now."
HISD business assistance professionals in supplier diversity and procurement regularly attend business workshops to promote its minority-and women-owned business enterprise (M/WBE) program and encourage small businesses to apply for contracts to do work with the district. To date, the M/WBE participation rate in the HISD 2012 bond program for professional services, including design, is about 51 percent.
"HISD wants to help small businesses," McGinnis said. "Small businesses are our future. We want to do whatever we can to prepare them to go after those bigger contracts."