No final decision has been made yet on where to put the new High School for Law Enforcement & Criminal Justice – but that isn't stopping HISD staff, parents and community members from planning for the future.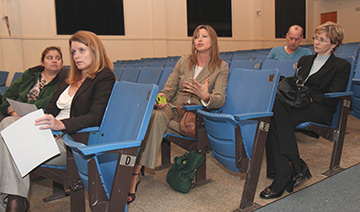 "Push us to deliver you the best facility," said Dan Gohl, HISD's chief academic officer. "Engage us, doubt us, question us – but participate."
At a community meeting Thursday, Gohl urged the audience to think about the generations of students to come who will be using the new building and what they need to be learning to be successful in careers in law enforcement and criminal justice.
"The point is: What does the community want?" he said.
Thursday's meeting kicked off the planning and design process for the new school, just three weeks after the HISD Board of Education approved the sale of the existing facility at 4701 Dickson. Trustees voted unanimously at their Nov. 14 meeting to accept a $60 million bid made by St. Thomas High School, which owns the adjacent property.
The district is now moving forward with finding a new location for the High School for Law Enforcement & Criminal Justice that will give the school access to downtown court and attorney offices, as well as provide enough space to co-locate a new HISD police headquarters.
HISD Trustee Juliet Stipeche, an attorney who graduated from HSLECJ in 1992, emphasized that she wants a site that is centrally located and provides opportunities for students to use public transportation. As a magnet, HSLECJ draws its 500 students from across Houston. The school is expected to grow and will be built to accommodate up to 800 students.
"I'm extraordinarily excited about LECJ's new home," she said Thursday, encouraging the audience to speak up during the planning and design process:  "Say what you want included in the building."
Although a formal decision on site selection isn't expected for 10 weeks, Gohl said the school district is committed to moving forward as quickly as possible. Under the sales contract with St. Thomas, HISD can stay in current building for two years before it will need to start paying rent.
HSLECJ Principal Carol Mosteit pledged to keep current and prospective parents up to date on the process, since many families keep location in mind when making school choice decisions.
Gohl assured the audience Thursday that the school will continue to draw interest from across the city because of its strong academic program. "The identity of the school is not tied to geography," he said.