New report informs district proposal to close or repurpose five schools and shift several school boundaries
As the Houston metro area continues to grow and evolve, the Houston Independent School District is evaluating student learning environments, enrollment data and demographic patterns to determine the best way to create better and stronger schools.
Based on a comprehensive study completed recently by district demographic experts, HISD is proposing the closure or repurposing of five campuses at the end of the school year. The proposal includes Dodson, Nathaniel Q. Henderson and Port Houston elementary schools, Fleming Middle School and Jones High School. Billy Reagan K-8 is set to be re-zoned because of changing patterns in its neighborhoods.
The proposed plan will allow enrollment and resources to be better distributed across campuses.
"While these types of changes are always difficult, it's important that we constantly evaluate enrollment levels to utilize our facilities to best serve our students," said HISD Superintendent Terry Grier.
Each campus recently hosted a community meeting to answer questions and gather important feedback from families and community members. An online comment card is also available if you'd like to give the district written feedback. This information will be presented to the board for a final decision on each proposal. Trustees are expected to vote on the proposals at their March 13 board meeting.
Background information: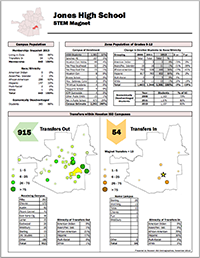 Demographics of all HISD campuses (.pdf)
---
Read more/Lea más: