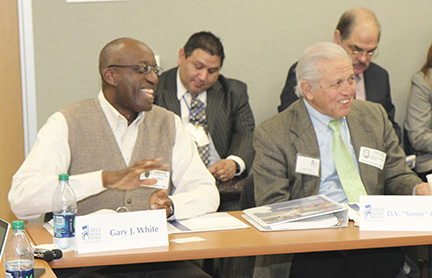 The Bond Oversight Committee held its fourth quarter meeting on Friday and heard a detailed review of the past year for both the 2012 and 2007 bond programs, which continue to progress on budget and on schedule.
The meeting was rescheduled from Jan. 28, when inclement weather forced the district to close for the day.
The gathering also marked the first with Gary White serving as chairman and D.V. "Sonny" Flores as vice chairman of the nine-member panel, which includes HISD parents, building and construction professionals, and community members.

HISD administrators kicked off the morning meeting with a review of 21st century learning, which is at the center of the district's 2012 building program. "Architecture, when done well, can improve lives," said Dan Bankhead, general manager of the Facilities Design. "That's what our team has been trying to do."
Though all of the schools being built under the 2012 bond program will be unique, they will share some common elements, including flexible learning spaces, visual connections and natural light. "This is not your grandfather's school and you'll see that," Bankhead said.
Committee members got a chance to see up close the design progress under the 2012 bond program with the presentation of several videos highlighting the collaboration and progress at the individual school campuses, including Furr, HSPVA, Washington and Sharpstown.
"We have to put aside what we want and what we need as the current people in that building and think 50 years from now who's going to live there and who's going to be making art," says HSPVA Principal Scott Allen in one of the videos. "Are we building a facility that will help that to be as successful as we are today?"
With HISD's commitment to build versatile facilities that will last generations, the district is also working hard to ensure the nearly $2 billion building program will help create opportunity and success in the Houston business community, especially among minority- and women-owned business enterprises (M/WBEs).
Alexis Licata, general manager of the Office of Business Assistance, detailed how both the 2007 and 2012 bond programs were exceeding their participation goals with M/WBEs. Within the 2012 bond program, the district has also seen a "partnerships we've never seen before," Licata said. 
The district is trying to encourage joint ventures that will bring prime contractors together with smaller firms.  Such partnerships can help smaller firms overcome traditional hurdles such as bonding.
Gary White quizzed staff about administrative oversight for both programs, specifically audits to ensure quality and responsible expenditures.
Chief Operating Officer Leo Bobadilla said the district not only has staff on hand to audit the programs as they go, but that external auditors are also hired. The results of those audits are shared with the committee, he said.
With the 2007 bond program expected to wrap up by the end of the year, one question remains to be seen. "Does it look like we'll have any money left over?" White asked.
Bobadilla told the committee that there are still unknowns but that 2007 projects are coming in either "at budget or a little below."
Administrators also discussed recent tours taken by Project Advisory Teams at the bond campuses to see examples of 21st century learning in action. Some trips have been taken locally, others have been to the Seattle area.
Committee member Craig Johnson said the tours are a great way to visualize concepts and to help the PATs work together on a common vision for their own campuses. "When I walked into the school, I saw kids in different little pockets studying," Johnson said. "It was awesome to see them so engaged and into what they were working on and honing in on what they want to do."
HISD administrators assured the committee that while the goal was to build innovative schools, no compromises were being made on safety or their durability under severe weather.
"Safety and security is our number one priority," said HISD Officer of Construction and Facility Services   Robert L. Sands Jr.
The next quarterly meeting of the Bond Oversight Committee will be held on April 29, 2014, at 8:30 a.m.