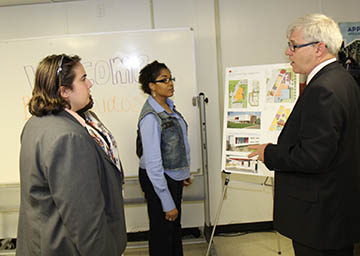 North Houston Early College High School is ready to leave behind its portables for a three-story building with a university feel.
"We need a school because we really don't have one," said Principal Angela Lundy-Jackson during a community meeting Tuesday night at the school. The school uses portables for its classrooms, cafeterias and administrative offices. "So we're excited to see this project come to fruition. Moving these kids into the future is very much needed."
About 20 parents and students attended the meeting to learn about the new 21st century facility HISD will build for the campus with funds from the district's 2012 $1.89 billion bond program. The $13.5 million-dollar project at 8001 Fulton will be located on Houston Community College's Northline campus.
North Houston Early is one of five early college campuses in HISD that offers students the chance to earn college credits while still in high school. Many of its students take courses at HCC and continue their studies at a four-year university after graduating.
"We're training our students on how to prepare for the next step in their life once they leave us," Lundy-Jackson said. "We need a building that will help ease them into a college atmosphere."
The 57,000-square-foot building will be built to serve up to 400 students. The first floor of the new school will include a community room, a gymnasium which will also serve as a multipurpose room and auditorium, and dining commons that will have additional break-out spaces. Athletic fields are also in the works for this project.
The school will feature a college center that provides students information on scholarships, access to counselors and information on registering for college classes. An outdoor pathway aligned with trees will allow North Houston Early students to easily walk to HCC for class.
"When we chose our exterior building material, we picked the same brick as HCC to create a similar look and feel, so it's not just two different buildings and so that students will feel like they're part of the same campus," said Daniel Ortiz of RdlR Architects, the architecture firm selected by HISD to design the school.
The building's second and third floor will house academic and learning areas that open up to student commons where students can gather for group activities, independent study or to lounge. Outdoor learning areas, including a large balcony space, will allow for students to break out of a traditional classroom for collaborative learning activities.
"I like that we have the balcony and we can be outside for class," said North Houston Early student Kayla Pacheco, who is a member of the school's Project Advisory Team. "The school will look different from a normal high school. It looks way better, and it gives us a college environment."
HISD plans to hold another community meeting for the school before construction begins and encourages parents, students and school stakeholders to provide feedback on the project's preliminary designs.
Site utility work is nearly complete, with construction slated to begin later this year.
"It's really important to reach out, so we can make sure all the pieces come together and that we end up with the best outcome possible," said HISD trustee Anna Eastman. "Your voices are really important."