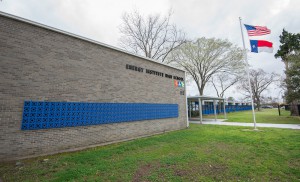 Texas-based VLK Architects has been selected to design the new $37 million Energy Institute High School, one of HISD's newest and fastest-growing magnet programs.
The school, currently located on West 28th Street, will double its size next school year when it adds another freshman class of 200 students. The school will eventually accommodate 800 students in grades 9 -12. The curriculum is designed to prepare students for college and careers, particularly in the fast-growing energy industry, with an emphasis on math, science, engineering and project-based learning.
An HISD committee, in conjunction with input from teachers, students, and parents, selected VLK to design the new school in late March. The decision came after 16 firms submitted qualifications for extensive review.
All the firms were evaluated using several criteria, including experience, quality of services, and commitment to HISD's stated goals for participation by minority and women-owned business enterprises (M/WBEs).
Three finalists were chosen to then make a presentation to the school's Project Advisory Team, which will help plan and design the new campus. That feedback helped guide the district's choice of VLK Architects.
The location of the new school is still being finalized. Until the new building is complete, the campus will be temporarily housed at 1808 Sampson Street.
"We're very excited to be working with VLK to create a 21st century school that will innovatively connect the secondary classroom to the world of work, higher education, and current technology," said Principal Lori Lambropoulos. "We are committed to pioneering and updating educational experiences through our collaboration with VLK and our school community to create new learning environments."
VLK was also selected by the district to design the new Condit Elementary School, under the 2012 bond program.
As part of its contract to design the Energy Institute High School, VLK has committed to contracting no less than 28 percent of its work to M/WBE consultants.