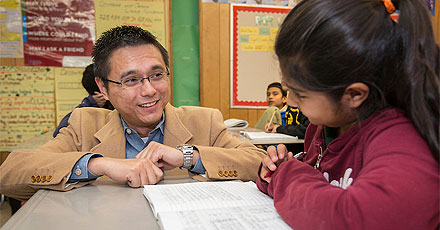 When Tiffany Chenier became the new principal of McNamara Elementary School back in 2006, one of the first things she did was analyze her student data. That led to a series of "serious conversations" with teacher Pang-Cheng Liu, whose student passing rate at the time was only around 50 percent.
"Back then, I didn't worry much about my students, because I didn't feel responsible for them," said Liu, a fourth-grade bilingual teacher. "I taught with what I was given, and although this did not produce very good results, I felt like I did what I could do and the students did what they could do."
Then Principal Chenier began visiting Liu's classroom every week, and providing feedback about what she had seen and in what areas she wanted Liu to improve.
"I can't say that I enjoyed each and every one of the conferences," said Liu, "but through those, I became more confident. Mrs. Chenier wanted me to be a better teacher and was willing to tell me what to do. And I am the type of person who if she asked me to do something, I would make sure to do it and she would see it the next time she came."
Both of their efforts paid off. Just one year later, Liu's passing rate had jumped to 74 percent, and it continued to climb for the next two years, hitting a high at one point of 94 percent.
"I think Mrs. Chenier was very happy and proud of me, and so was I," added Liu. "She saw that I was willing to learn and that I had potential. And she taught me something very important: to set high expectations and to believe that all children are capable of passing. In the past, I never took ownership of them, but now I certainly do. These are my children and I am responsible for their successes and failures. If they don't do well, then it reflects upon me. So I am going to work real hard and give the children my very best, because they deserve that."
This is the second installment in a series on teachers who have used constructive feedback to improve their instructional practices. To read the first article, go  here. To share your story, please send an email to info@houstonisd.org. Questions about the TADS process can be sent to TADS@houstonisd.org.