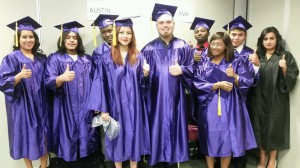 More than 80 students received their high school diplomas at the HISD fall 2014 graduation ceremony on Saturday, Jan. 10.
Organized by the district's Office of School Support, the ceremony recognized students from various high schools for completing the required courses and passing the state assessments during the fall semester. Among those were the first four graduates from the district's Middle College High School at HCC Felix Fraga, which opened in August 2014: Jennifer Baltazar (below, right), Selena Hernandez (center), Verner Potts, and Nataly Ramon (not pictured).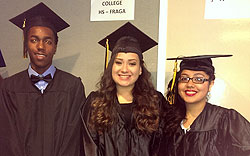 Students who completed requirements through HISD's APEX Credit Recovery program and the HISD Virtual School also graduated.
The ceremony was led by Board of Education First Vice President Rhonda Skillern-Jones, Chief High School Officer Harrison Peters, and district principals, and was the district's first fall commencement exercise since the early 1970s.