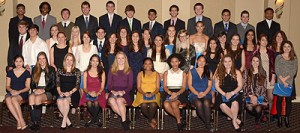 More than 100 members of HISD's Class of 2014 took home their International Baccalaureate (IB) diplomas recently. Ninety-six graduates from Lamar High School (some of whom are pictured here) and 10 from Bellaire High School accepted their degrees during special ceremonies held on Jan. 5 and Dec. 17, respectively.
Since IB diplomas are not conferred until late summer, students are generally presented with them while at home, on break from university.
Lamar and Bellaire were the first two HISD high schools to offer the International Baccalaureate Diploma Program, which is composed of academically challenging and advanced curriculum. Lamar's IB Diploma program is the largest in Texas and one of the top 10 IB Diploma programs in the United States. Reagan High School received its IB authorization for the Middle Years Programme in the fall of 2013. It is currently in the process of obtaining authorization to offer the IB Degree Program. The first students eligible to graduate from that campus with IB diplomas will be the Class of 2018.