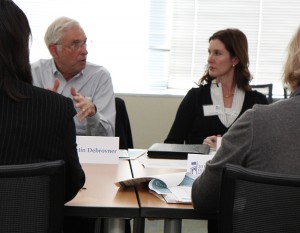 The Bond Oversight Committee held its first meeting of 2015 on Tuesday, hearing an update on the bond program and the impact that soaring construction costs are having on HISD's plan to build or renovate 40 schools.
Since 2012, when Houston voters approved the district's $1.89 billion bond program, the district has seen an average 44 percent increase in building costs, from about $146 per square foot in 2012 to about $210 per square foot today.
Much of that spike is attributed to the oil and building boom over the last several years, which caused the economy of Houston and much of the state to flourish, and brought an influx of commercial construction projects to the area, creating a huge demand for workers and materials.
Now that oil prices have fallen significantly, many expect construction costs to follow. Similar to feedback voiced by trustees at last week's board workshop, BOC members said one option could be to delay the bidding of some projects.
"Moving forward with the design stage doesn't mean we have to move directly into construction if the market isn't favorable," said BOC member Bob Eury, executive director of the Houston Downtown Management District and president of Central Houston. "A better strategy might be to hold off on construction until we have a better idea what's happening in the market – and hopefully the costs will go down."
The district has already taken some steps to deal with potential budget gaps, including moving inflation and some reserve dollars to each school's construction budget. Each school in the bond program has its own unique project budget, separate from every other school.
"We are not robbing Peter to pay Paul," said Sue Robertson, HISD General Manager of Facilities Planning. "We are not moving funds from one school's budget to make up another school's shortfall."
Some Group 1 schools are on target with their construction budgets and will move forward as scheduled. In the coming weeks, other schools will undergo a scope-to-budget review, and HISD officials will analyze the various options for each project to determine the best path forward.
"We want folks to understand that we're doing everything we can possibly do to ensure a good outcome for our schools," Robertson said. "We're going to take a hard look at the strategic timing of our projects, but we still plan to deliver on our commitments and objectives."
BOC members also discussed the importance of keeping parents, Project Advisory Teams and other school stakeholders updated on the status of projects.
"This is a process, not an event," said Chief Operating Officer Leo Bobadilla. "As we work through these issues, we will make sure our Project Advisory Teams and other stakeholders are informed."