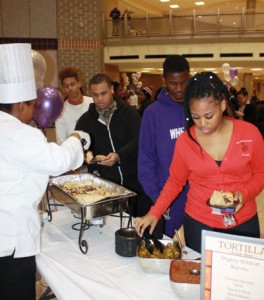 Students, faculty, and staff at Wheatley High School celebrated the grand opening of their new U.B.U. Lounge on Jan. 22. The cafeteria now features three dining stations, Custom Brothers, Tortilla, and Home Zone and students had the opportunity to sample items from all three.
"The food being sampled is good," said Wheatley senior Mwyinika Heard. "I didn't eat lunch at school much before, but I will start, if they are serving these items. The food is more flavorful than it has been in the past."
The dining stations were designed to provide menu variety and offer students the ability to customize their lunch experience.
"Students at Wheatley participated in a taste test that helped us select items for the menu," Nutrition Services Senior Administrator Audene Chung told attendees. "You provided your feedback and we listened. Our goal is to bring you items that you want to eat."