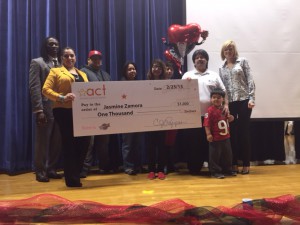 As Luby's ACT winner for the third six weeks of the current academic year, Stevenson Middle School student Jasmine Zamora received a check for $1,000, an Apple iPod Shuffle, and a $25 Luby's gift card. She is the first Luby's ACT winner to be nominated by two teachers – Mike Van Tilburg and Heather Campbell – and neither one knew the other had done so.
Luby's ACT (Achieving Character Together) awards program is offered to all HISD middle schools. Every six weeks, students are recognized for exhibiting positive and proactive behavioral attributes such as punctuality, honesty, respect, self-discipline, and dress code adherence, the very same attributes Luby's values in its employees.
The second six-weeks winner was seventh-grader Dawan Henderson at Mickey Leland College Preparatory Academy. Read about him here.