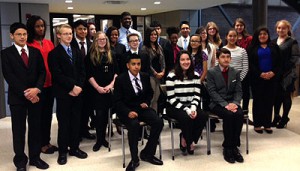 Almost two dozen seventh- and eighth-graders from Garden Oaks Montessori are in the process of making history for HISD.
The students are participating in the Midwest Regional Middle School Conference of the Montessori Model United Nations (MMUN) on March 13 and 14 in Fort Wayne, Indiana, and according to Principal Lindsey Pollock, this is the very first time a public school has done so.
"This is only our first year to have a Model UN, but the experience is life-changing for students," said Dr. Pollock. "Our kids will meet people from across the country and they have researched topics that are impacting lives all over the world. It broadens their horizons and helps them recognize our inter-connectedness and our responsibility in making the world a better place."
Among the topics to be discussed this year are: the war in Syria and the Ukraine, refugee children, climate change, and universal primary education. The students will be acting as delegates from Azerbaijan, Bolivia, Chile, China, France, and one non-governmental organization.
"I think MMUN is going to be interesting," said eighth-grader Charles Beare. "I've learned about climate change and that it needs to be acted on before it destroys our way of life and creates total chaos."
"It is pretty amazing to realize there are crises in the world and we can work to make it better," added seventh-grader Molly Greenwood.