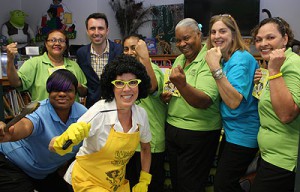 On May 1, students at 16 HISD elementary schools observed School Lunch Hero Day, a nationwide celebration sponsored by the School Nutrition Association, Random House Children's Books, and Jarrett J. Krosoczka, author and illustrator of the popular Lunch Lady graphic novel series.
Krosoczka chooses one school to visit each year on School Lunch Hero Day, and this year, he chose HISD's own Scroggins Elementary. He connected with Scroggins Librarian Jo Reed on social media and saw the marvelous activities she has done with the Lunch Lady series.
"I'm so touched that my characters resonate with the students," said Krosoczka. "I saw how passionate Ms. Reed was and her efforts caught my attention. I had to visit to thank her for all she's done."
Reed, along with her colleagues Cheryl Hensley (MacGregor ES), and Sue Carnes (Bell ES; now retired) were recognized recently with the Wayne Williams Library Project of the Year Award for 2015 by the Texas Library Association. The award was for their coordinated efforts in schoolwide reading campaigns based on the Lunch Lady series.
"A good librarian matches students to the right books," said Reed. "The Lunch Lady series resonates well with students and captures reluctant readers."
As part of a contest to have lunch with Krosoczka, students creatively named lunch-menu items inspired by the novels. Second-grader Jesse Nava, whose winning name was "Black Oil Spill" for black beans, sat at Krosoczka's table and shared with the author that "all of the books are my favorite."
In partnership with Random House, Krosoczka presented every classroom with an entire set of the Lunch Lady graphic novels.
Nutrition Services Community Education Dietitian Nan Cramer also dressed as the iconic Lunch Lady.
"I'm thrilled that kids are so excited about lunch," said Cramer. "I'm proud of all the lunch ladies here today because they are the real superheroes."