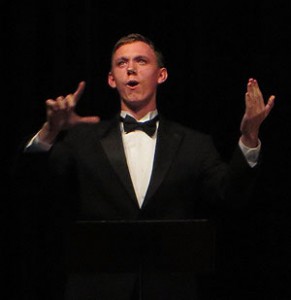 Nathan Brunell, a junior at HISD's Westside High School, will be immersing himself in deaf culture this summer after being selected to attend an exclusive American Sign Language (ASL) program at Gallaudet University in Washington, D.C.
Nathan is one of only 48 high-school students chosen from across the country to participate in the 10-day program, which is for deaf, hard-of-hearing, and hearing students. Gallaudet is the only university in the world designed specifically to serve deaf and hard-of-hearing students, and only experienced signers at the intermediate level or higher were considered for the workshop.
Although Nathan has no hearing impairment himself, he was inspired to learn ASL after seeing other children signing along to music.
"I like to listen to music, and I saw some videos of kids signing to their favorite songs, so I decided that I wanted to give it a try," he said. "It is important to me now, because it helps me to communicate with the deaf and hard-of-hearing."
Nathan said it was "very exciting" to be the only hearing participant at a summer camp last year and that he hopes to become a professional ASL interpreter one day.