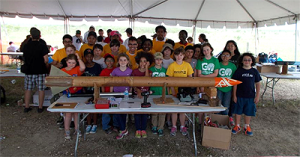 Students from Garden Oaks Montessori collaborated with students from Washington High School's engineering magnet program over the past school year to design and fabricate a payload for the One Mile-One Pound Rocket Challenge.
After their teachers were connected through a mutual colleague, students from both schools began researching, designing, building, and testing a stable rocket capable of attaining a height of one mile with a one pound payload that could be recovered safely.
A panel of rocket scientists from the National Aeronautic and Space Administration (NASA) and KBR reviewed and approved the design, and the rocket was successfully launched on Sunday, May 10, 2015, at the Brazoria National Wildlife Refuge in Lake Jackson.
"The project was definitely a success, as our students were inspired to continue a pursuit of innovative thinking and a science college/career path," noted Garden Oaks Principal Lindsey Pollock, "but the last I heard, they were still searching for the rocket, as it landed in the marshes of the refuge."