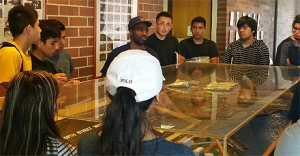 Students from Furr and Chávez high schools tour largest wastewater facility in the city
The source of our water is becoming the source of a career for several HISD graduates. Fifteen students who just graduated from Furr HS and Chávez HS were selected to partake in a three-week class on water maintenance that will result in them gaining Class D water operator licenses as well as eligibility for employment with the City of Houston Public Works Department.
The class is a part of HISD's Linked Learning initiative, which combines academics and hands-on learning to prepare students for real-world experiences and career pathways.
Daryl Pope, a member of the City's Public Works Department, has been instructing the students on basic water maintenance, safety protocol, and techniques for treating surface water.
"The goal is for students to get a foundational understanding of the public water system and to observe soft and technical skills of various positions within water works in order to better position themselves as candidates," said Monijit Katial, a Linked Learning manager.
On June 1, the students toured the largest wastewater facility in the city, and on June 10, they got an inside look at the Northeast Water Plant, which supplies the city with drinking water and has the capacity to process 70 million gallons of Lake Houston water a day.
"It's a really good program," said student Marianna Lopez. "It's good for our future."