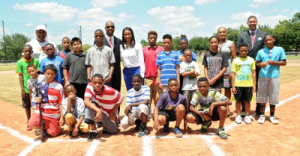 About 50 students, teachers, and community members turned out on July 14 to celebrate the opening of the new Fondren Baseball Field at Key Middle School.
Construction of the field began in October 2014 through a partnership between the Fondren Foundation and the Stacey and Bo Porter SELF Foundation. The new field will provide middle-school athletes with a high-quality space on which to practice their skills and compete.
"When Stacey and I started the foundation, our plan was never to develop just baseball players, but the person as whole, and that is what we hope this baseball field will help do," Bo Porter told the crowd at the ribbon-cutting ceremony.
Porter hopes the field will not only help spark an interest in baseball, but inspire students to do their best off the field as well.
The Key Middle School Cougars will begin using the field for practice this school year, and will start the baseball season with an opening pitch ceremony in February 2016.