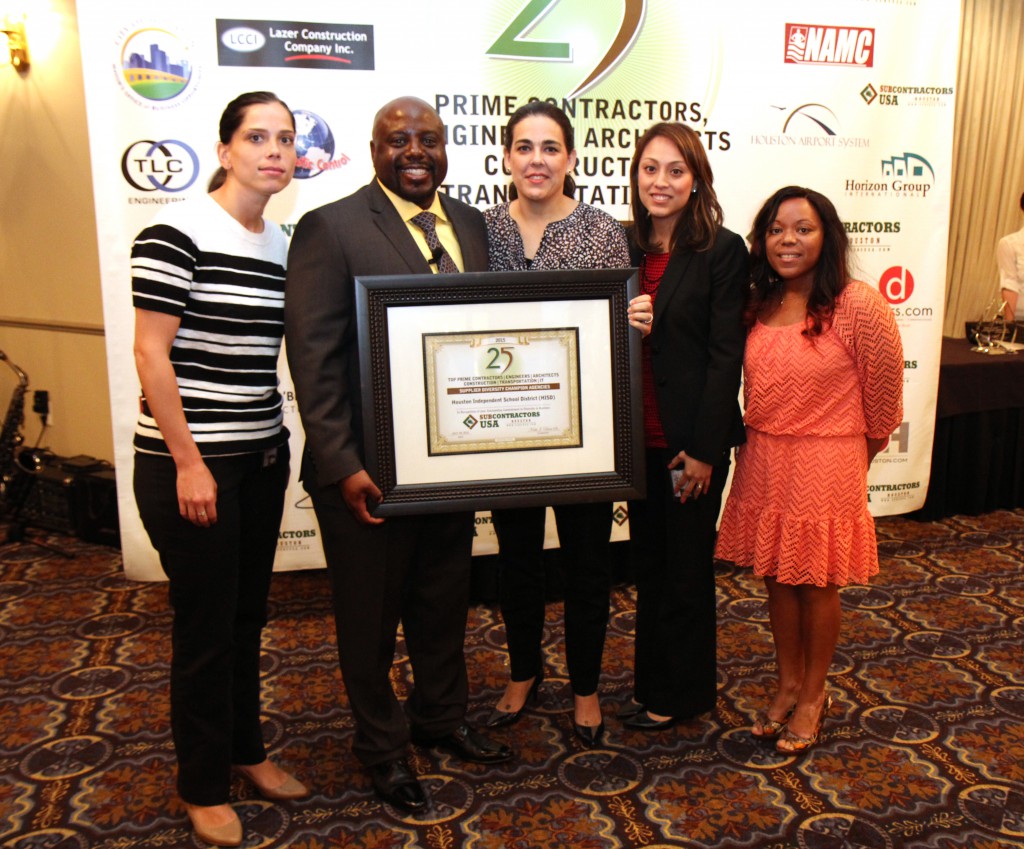 Houston's monthly African-American magazine, Subcontractors USA, recognized HISD's Business Assistance team Wednesday with the 2015 Top 25 Supplier Diversity Champions award during the 2015 Top 25 Prime Contractors, Engineers, Architects, Construction, Transportation and IT for Diversity Awards at the HESS Club in the Galleria area.
"Subcontractors USA is proud to be a minority business journal that inspires, informs and educates," said Subcontractors USA magazine president Keith "D-MARS" Davis. "Recognizing and celebrating the community is one of the things we are known for. We are especially proud to celebrate agencies and companies that put forth effort and resources to provide minority and women-owned companies with opportunities."
Business Assistance General Manager Alexis Licata said her team works with the district's efforts to increase the number of minority- and women-owned business enterprises (M/WBE) that do business with HISD. The team meets regularly to plan outreach and networking events, including monthly Workshop Wednesday events. These events involve M/WBEs and keep them informed of business opportunities within the district and as subcontractors on current 2012 bond projects.
"Our team is honored to be recognized as a supplier diversity champion for our work with M/WBEs," Licata said. "We serve a diverse community, so we remain committed to proactive minority outreach and to providing assistance to minority businesses."
The event also recognized the Top 25 prime contractors for diversity in the Houston area including the City of Houston Mayor's Office of Business Opportunity, Houston Airport System, and Metro.