A recently retired teacher from The Rice School has been selected as the 2015 Texas Association for Bilingual Education Secondary Teacher of the Year.
Tanya Thompson, who retired in May after more than three decades with HISD, was selected because of her teaching philosophy, which uses personalized learning to cater to the learning style of each student.The award is given each year to a bilingual/ESL teacher who demonstrates exceptional teaching and dedication to English language learners.
"HISD has some of the best teachers in the state — and Ms. Thompson is proof of that," Superintendent Terry Grier said. "The right teacher can make all the difference in the world for a student. That's why it's so important that we have effective teachers — like Ms. Thompson — in every classroom."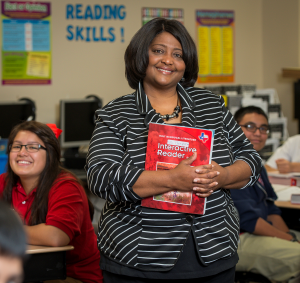 The Texas Association for Bilingual Education believes English language learners can be successful under the guidance of ESL teachers who are passionate about their education, and encourages educators to use bilingual-bicultural programs that allow for the academic excellence.
During her tenure, Thompson taught English, reading and ESL. She describes herself as a firm believer in the value of bilingual education. A life-long learner, Thompson said she continually tried new teaching techniques to help her students better understand the language.
"I love the idea of knowing that I can help students understand something they thought they would never be able to understand," Thompson said. "I like building their confidence."
Though she is retired, Thompson continues to work at The Rice School, where she now volunteers, helping her former student continue to grow and improve.
"Ms. Thompson's legacy of excellence in teaching and learning will continue to resonate throughout our building," said Rice Principal Kimberly Hobbs. "She has inspired and mentored other educators by her demonstrations of best practices throughout her career."
During her tenure, Thompson has been awarded The Rice School Teacher of The Year, ESL Teacher of the Year, Houston ISD's and HAABE's Secondary ESL Teacher of the Year.
Thompson will be formally recognized during an awards banquet in El Paso on Oct. 16, 2015.