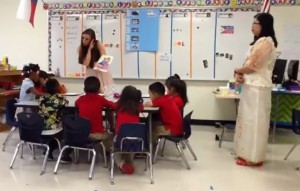 Part of creating Global Graduates is ensuring all students have the resources they need to be ready to learn. That's where HISD's speech-language pathologists come into the picture.
These trained professionals are responsible for identifying and providing intervention for students with speech and/or language difficulties that might affect a students' ability to learn. Whether it's receptive/expressive language, articulation, social skills, or stuttering; speech-language pathologist work to identify struggling children and provide the right intervention and strategies for them so they are able to flourish in school. 
Classroom-based speech therapy services has been the default model of service delivery for speech therapy at HISD since 2013. Providing these services is part of HISD's commitment to inclusive and effective learning environments for all its students, said Cheval Bryant, Manager of Speech-Language Services at HISD.
"Research shows that students generalize skills more quickly when those skills are taught in the student's natural environment," Bryant said. "Since strong speech-language skills are essential to literacy and learning, the best place to help students develop and improve those skills for the purpose of improving academic outcomes is the classroom where the Speech-Language Pathologist and classroom teacher can collaborate on language lessons."
Collaboration between teachers and speech-language pathologists give students the best opportunity for ensuring that speech therapy services are educationally relevant and produce results where they matter most, in the classroom.
The Office of Special Education encourages parents to take an active role in their child's education and contact their teacher if they feel their child's vocabulary, speaking skills or listening skills are lagging behind. Early identification of students who may need additional work with a speech-language pathologist is key toward setting them up for future success.
For additional information, contact the Office of Speech-Language Services at 713-434-4717 or email Cheval Bryant at cbryant5@houstonisd.org.