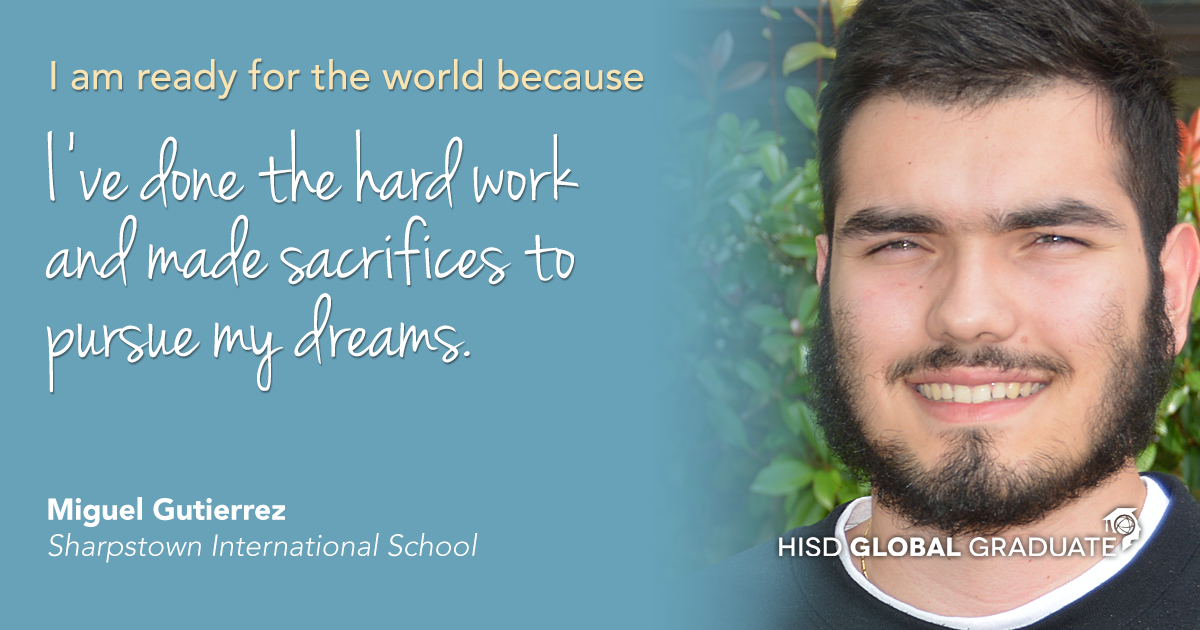 Editor's Note: This week, thousands of HISD seniors will receive their diplomas during graduation ceremonies across the district. Many of our students have overcome challenging circumstances during their educational journeys. We are sharing a few of their stories this week.
Take care of business.
That has been Miguel Gutierrez's mantra throughout his high school career, and it's been a philosophy that has served him well since leaving his parents behind in Mexico to fulfill his dreams here in Houston.
"At first it was hard, but they raised me to be a responsible person," said Miguel, who has lived with his older brothers the past four years. "I've paid attention in school because I know the opportunities are worth it."
A senior at Sharpstown International School, Miguel moved to Houston when he was 7. He attended elementary and middle school here before his family moved back to Mexico when he was 14, after his dad had a difficult time finding work in construction.
He studied a few years there before realizing that he wasn't being pushed to his full potential. He begged his parents to let him return to Houston, so he could focus more on academics. His brothers, who also work in construction, have supported and encouraged him to keep going.
"I've learned that time passes by fast, and you have to do things that will help you grow and benefit you and your future family," he said.
That drive and focus has led Miguel, a straight-A student, to pursue civil engineering at Texas A&M University in the fall. He had considered West Point and even paid the military academy a visit. But in the end, he wanted to be closer to his parents. He is receiving grants and a scholarship from law firm Vinson & Elkins to attend A&M.
But he doesn't plan to slack off on his studies or be distracted by college life.
"I'm not going to settle and be satisfied with the minimum amount of effort it takes to get by," Miguel said. "I'm driven to do the very best I can."