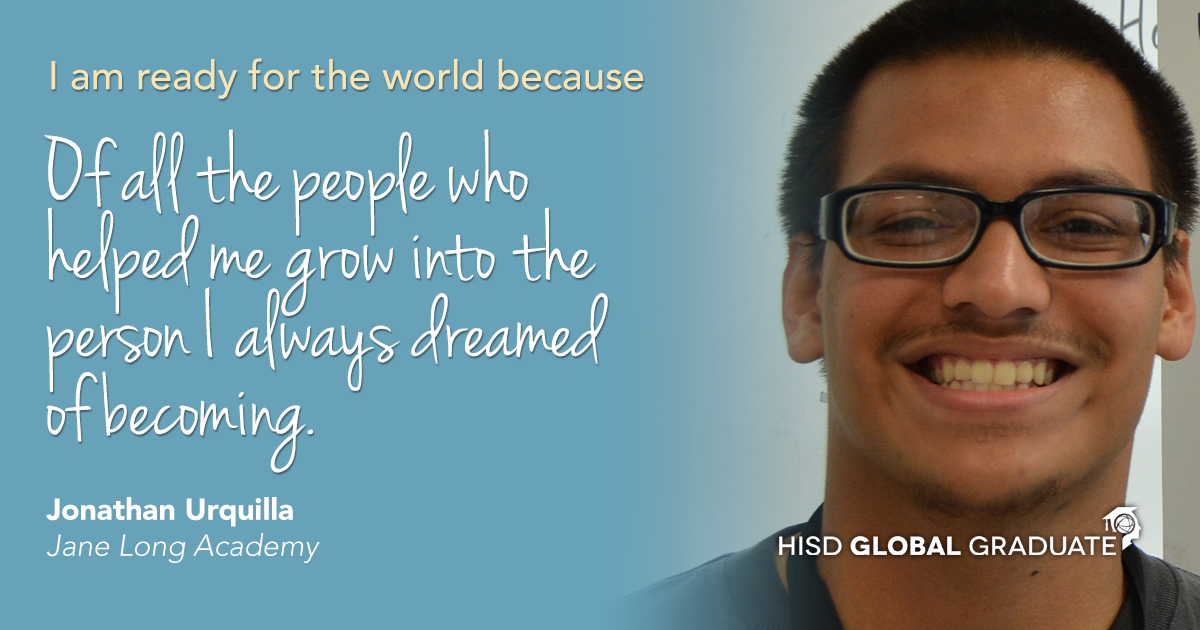 Editor's Note: This week, thousands of HISD seniors will receive their diplomas during graduation ceremonies across the district. Many of our students have overcome challenging circumstances during their educational journeys. We are sharing a few of their stories this week.
Jonathan Urquilla is graduating from Jane Long Academy with an associate's degree in pharmacy technology. It's been a long time coming for him, but he has even bigger plans to become a doctor one day.
Jonathan was born in San Francisco to a Salvadoran mother and Mexican father, but his father was not part of his life growing up. His family owned a Salvadoran restaurant in the Bay Area, but when they were forced to move out of the building, his mother brought Jonathan and his siblings to Houston, where they had family.
"I have an older brother, but he went off on his own pretty early, so I became the man of the house," Jonathan said. "I always worked to help support my mother and my little sister, first in the restaurant where his mother worked, and later at Walgreen's.
The senior enrolled at Jane Long Middle School in seventh grade, and the summer before 10th grade, Assistant Principal Keri Wittpenn convinced him to enroll in the Pharmacy Technology Futures Academy. Despite the demands of a program that required him to take college classes at Houston Community College, he worked 30 hours a week at Walgreen's.
"I never asked my mom for anything," he said, "and when she was laid off for a few months, I paid the rent and all the bills."
Jonathan's sister, now 14, has had epilepsy since she was a child. He has helped take care of her as well, stepping up and paying doctor bills when needed.
The senior plans to attend Sam Houston State University and study biomedical engineering, with a long-term goal of attending medical school and becoming an anesthesiologist.
Jonathan plans to find a pharmacy tech job near Sam Houston State and continue to help his family as needed.
"I chose Sam Houston because it's not too far away from my mom," he said. "I want to help her get her GED so that she can stop waiting tables and get a better job."