Editor's Note: Thousands of HISD seniors will receive their diplomas during graduation ceremonies across the district through the weekend. Many of our students have overcome challenging circumstances during their educational journeys. We are sharing a few of their stories this week.
With full scholarship in hand, Davis HS senior is first in her family to go to college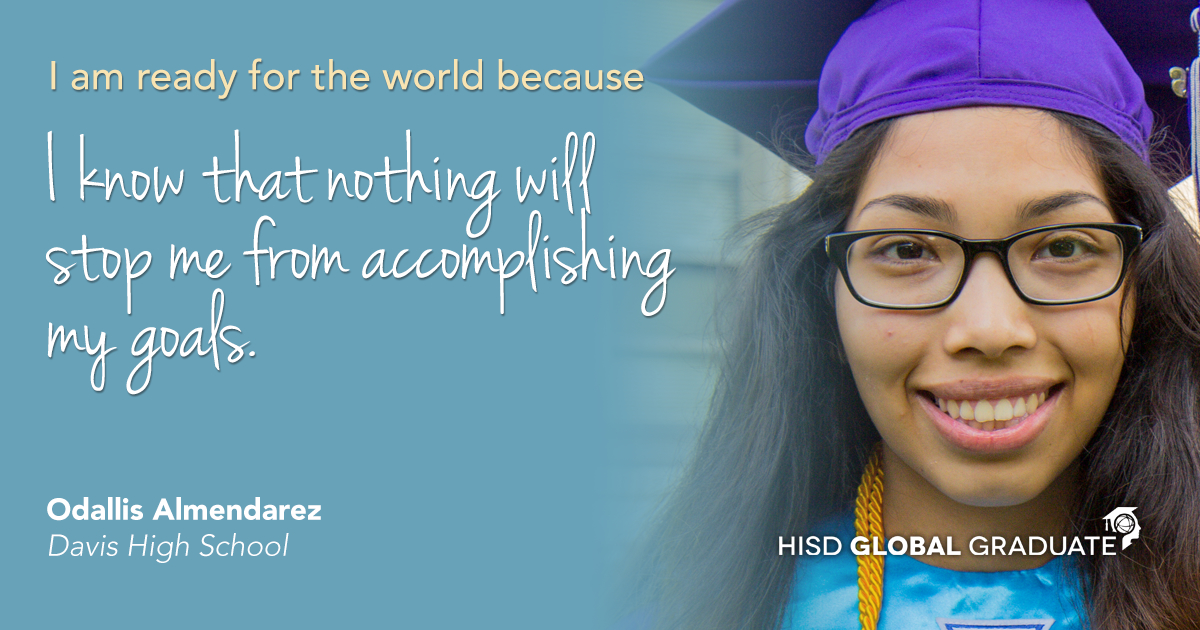 Odallis Almendarez is the first in her family to go to college. She has been awarded a full scholarship to Dickinson College in Carlisle, which is located in southeastern Pennsylvania. She plans to study political science.
Almendarez was an English Language Learner when she began school.
"It was really challenging, but it didn't stop me from working hard and always striving to be in the top 10 percent of my class," she said. "I wanted to make my parents proud and be a role model to my little sister, who is 12."
Almendarez is especially grateful to EMERGE Academics Program Manager Lisle Bull, who mentored her and helped her with her college applications. The senior was one of the first to join the EMERGE Fellowship when it began at Davis High School.
She also is grateful to her mother, who was always supportive and extremely positive about everything her daughter did.
"For example, she would say, 'You're going to get into that college', 'You're going to win a scholarship,' 'You're going to do well on your exam,'" Almendarez said.
The senior is currently National Honor Society vice president and served as treasurer during her sophomore and junior years. She is ranked third in the senior class.
Almendarez has always gotten top marks, graduating salutatorian from John Marshall Middle School. In her free time, she loves to volunteer, read, swim, and draw.
"HISD has prepared me to overcome all obstacles," she said. "I know that I will be successful at Dickinson."
Refugee flourishes at Westbury HS, will graduate with full scholarship to study physical therapy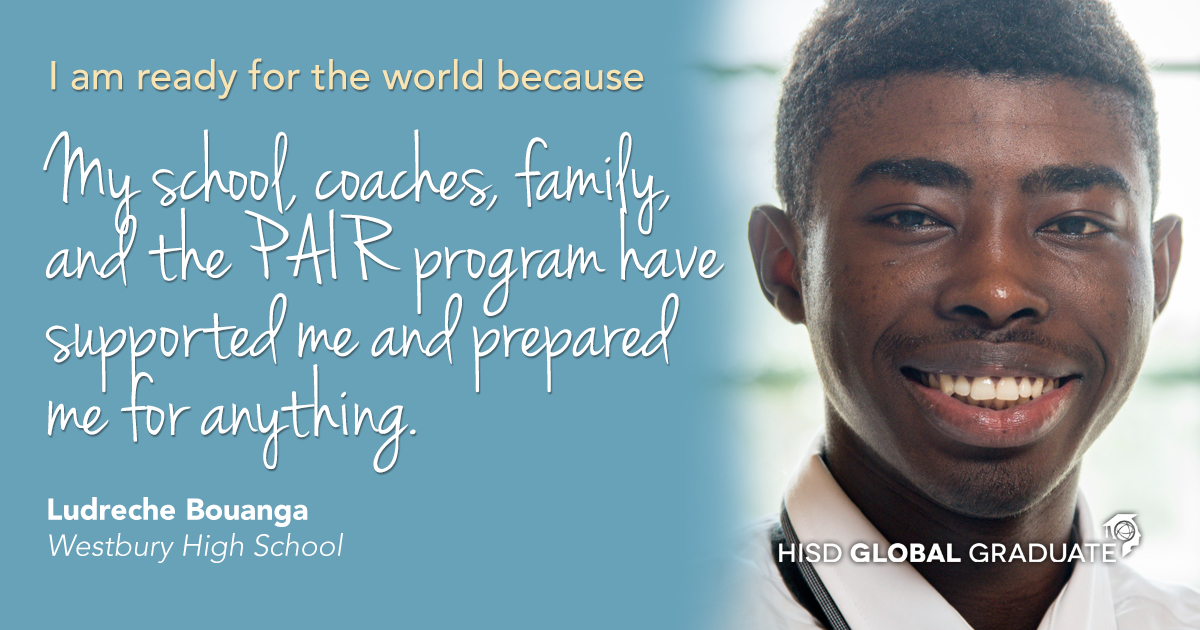 Ludreche Bouanga was 11 years old when he moved to Houston with his family from Gabon, a country bisected by the equator on the Atlantic coast of Africa.
The young refugee spoke no English and knew little about American culture when he started as a middle-school student in HISD. Seven years later, the 18-year-old is graduating from Westbury High School with a scholarship to attend Allen Community College in Kansas, where he plans to study physical therapy and run track and cross country.
"I didn't think it was possible," he said. "But I met some people who helped me along the way."
Among his biggest supporters is his mother, whom Ludreche credits with keeping him motivated during tough times. "She always told me you can achieve anything if you have the knowledge."
By studying physical therapy, Ludreche hopes to combine his interest in the body's mechanics with his desire to help others, especially his mother. "She is always complaining about her legs," he said. "I want to find a way to make her life better."
As a longtime volunteer for the Partnership for the Advancement and Immersion of Refugees, a nonprofit that supports newcomers to Houston, Ludreche is also committed to supporting other young newcomers to the United States.
"I tell them don't be afraid to express anything," he said. "Have a dream, work hard for it, and anything is possible."
Westbury Principal Susan Monaghan describes Ludreche as a "born leader."  "He is going to be successful in life no matter what he decides to do," she said.
With his upcoming move to college, Ludreche admits he is both nervous and excited about this latest challenge.  "I'll just have to focus on my goal and remember why I'm there," he said.
Challenge Early College HS grad looks forward to life of service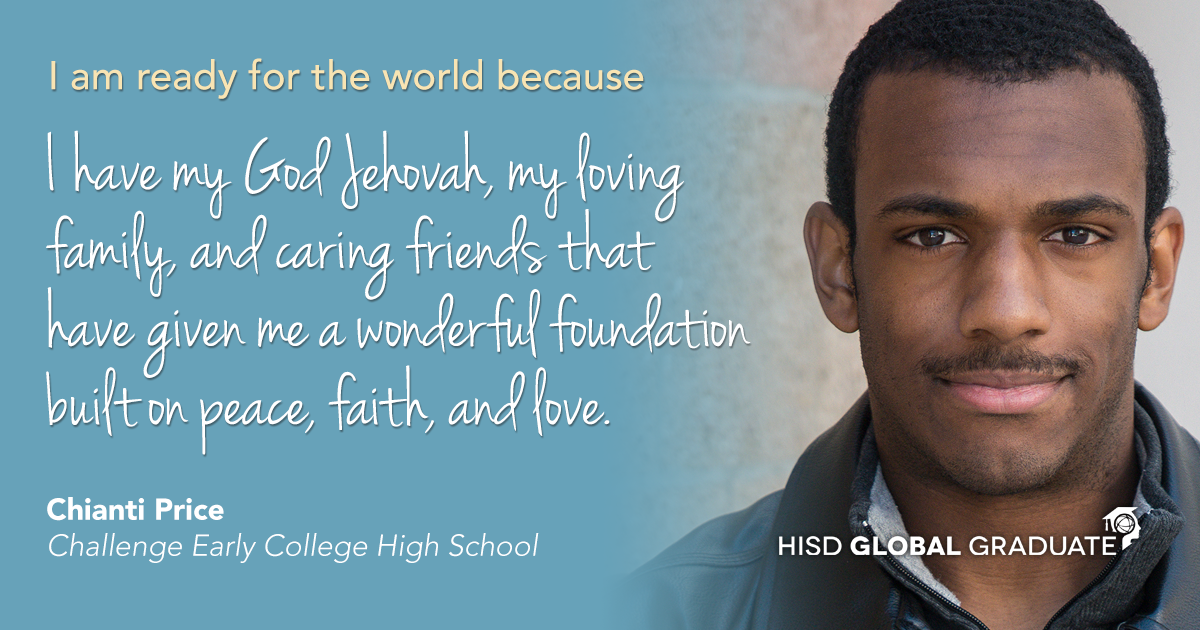 Chianti Price chose his future profession for two reasons: faith and medicine.
"I want to be an RN," the valedictorian at Challenge Early College High School says. "From a young age, I've always wanted to learn about the human body."
When he's not helping patients, he will be preaching his faith. He hopes the irregular work hours of a nurse will allow him to carve out time for regular pioneer service as a Jehovah's Witness.
Chianti will graduate with his associate's degree in science and is attending UT Health Science Center Houston College of Nursing in the spring.
Chianti has long been thought of as a leader in his school and congregation. He mentors middle-school students at Pin Oak every Friday and serves as an attendant in his congregation.
"I carry myself as a compass and make sure I'm friendly," he says. "I like to make people feel good about themselves."
He feels a good leader can understand what people want, is not afraid to speak his or her mind, and knows when — and how — to speak up.
He says he put his leadership skills to work in advisory period at CECHS recently when he got a shy freshman student to come out of her shell in class.
"The way she expressed herself that day made me feel like a good leader," he says.
Principal Tonya Miller calls Chianti "a true servant leader."
"Chianti is a positive young man who treats everyone with respect. He attracts people to him with his openness and kindness and is successful with the highest level of humility. He has a seriousness of purpose, a passion for learning, and a strong sense of integrity."
'Model student' at North Forest HS blazing a trail for herself, her family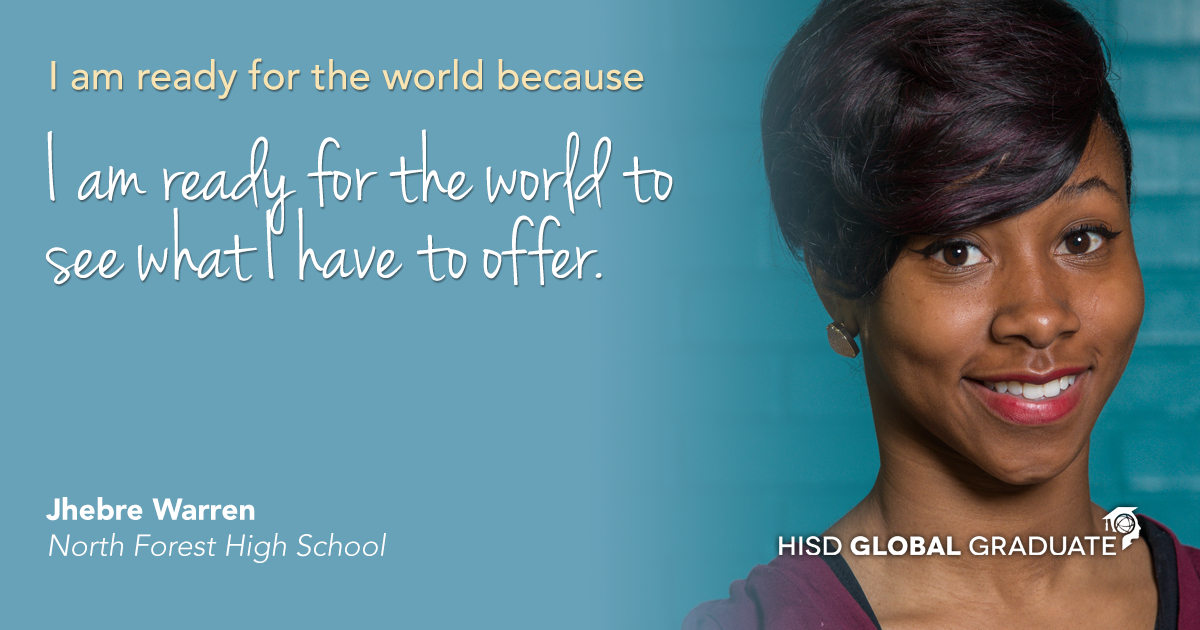 Jhebre Warren has dreams and aspirations bigger than Texas.
"I want to own a law firm," she said. "Moving out of Texas is going to be a better experience for me and my family. Since I have the opportunity to go out, explore and excel, I'm going to do that."
Before walking across the stage to receive her diploma, the class of 2016 salutatorian at North Forest High School is finalizing plans to attend Wesleyan University in Connecticut to study psychology in hopes of becoming a lawyer. As one of the top leaders in her school, Warren faced a number of personal challenges she says motivated her to excel and give back to others.
"My father passed away about two years ago, and that was my best friend, and my mother had an aneurysm about four years ago," she said. "It's actually seven of us at home and I'm the youngest. No one else has really been doing anything to keep the family in a stable position, so I just knew that it had to be me."
North Forest High School Principal Richard Fernandez calls Jhebre "a model student" who has an approach toward education that every student could learn from.
"It definitely helps our students to see other students or adults who have had success that they know from the neighborhood come back and share their paths or similar situations," Fernandez said. "Jhebre is a shining example for our school of what can happen when you put in hard work and persevere through whatever you have going on in your personal life. She's a model Bulldog."
Jhebre said although she will miss high school, she's excited to have received a full scholarship to college and represent North Forest as one of the many talented students in the school.
"If I could give back to others, that's about good as it gets," she said.
Jane Long Academy senior successfully navigates pharmacy tech program, family duties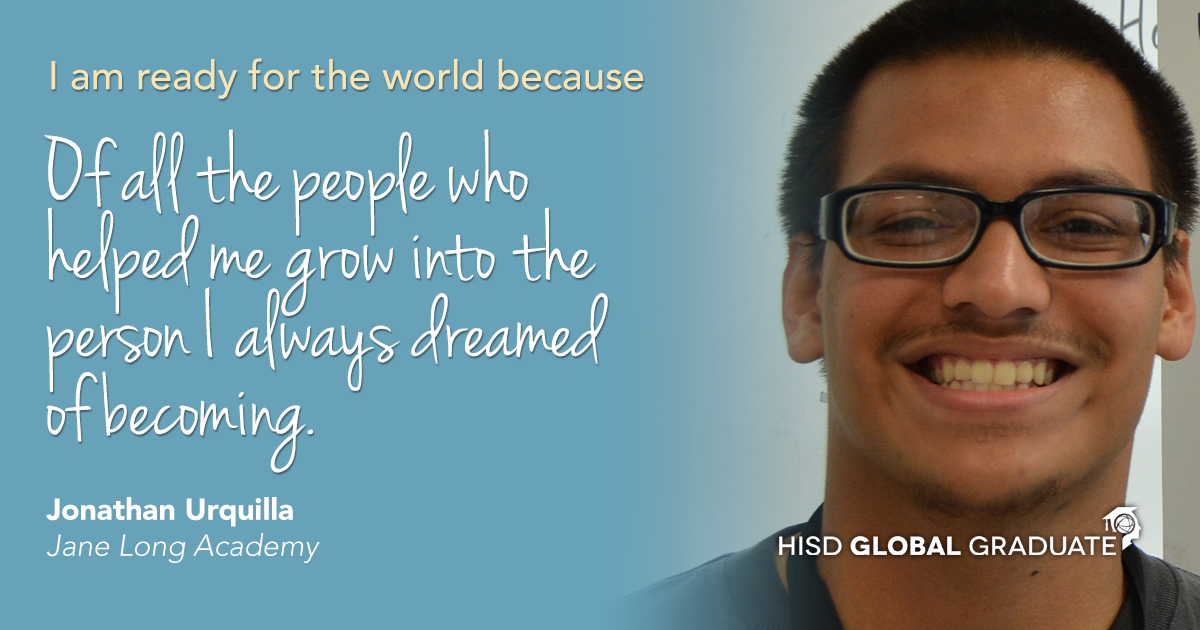 Jonathan Urquilla is graduating from Jane Long Academy with an associate's degree in pharmacy technology. It's been a long time coming for him, but he has even bigger plans to become a doctor one day.
Jonathan was born in San Francisco to a Salvadoran mother and Mexican father, but his father was not part of his life growing up. His family owned a Salvadoran restaurant in the Bay Area, but when they were forced to move out of the building, his mother brought Jonathan and his siblings to Houston, where they had family.
"I have an older brother, but he went off on his own pretty early, so I became the man of the house," Jonathan said. "I always worked to help support my mother and my little sister, first in the restaurant where his mother worked, and later at Walgreen's.
The senior enrolled at Jane Long Middle School in seventh grade, and the summer before 10th grade, Assistant Principal Keri Wittpenn convinced him to enroll in the Pharmacy Technology Futures Academy. Despite the demands of a program that required him to take college classes at Houston Community College, he worked 30 hours a week at Walgreen's.
"I never asked my mom for anything," he said, "and when she was laid off for a few months, I paid the rent and all the bills."
Jonathan's sister, now 14, has had epilepsy since she was a child. He has helped take care of her as well, stepping up and paying doctor bills when needed.
The senior plans to attend Sam Houston State University and study biomedical engineering, with a long-term goal of attending medical school and becoming an anesthesiologist.
Jonathan plans to find a pharmacy tech job near Sam Houston State and continue to help his family as needed.
"I chose Sam Houston because it's not too far away from my mom," he said. "I want to help her get her GED so that she can stop waiting tables and get a better job."
Sharpstown International senior credits self-motivation, strong work ethic for achievements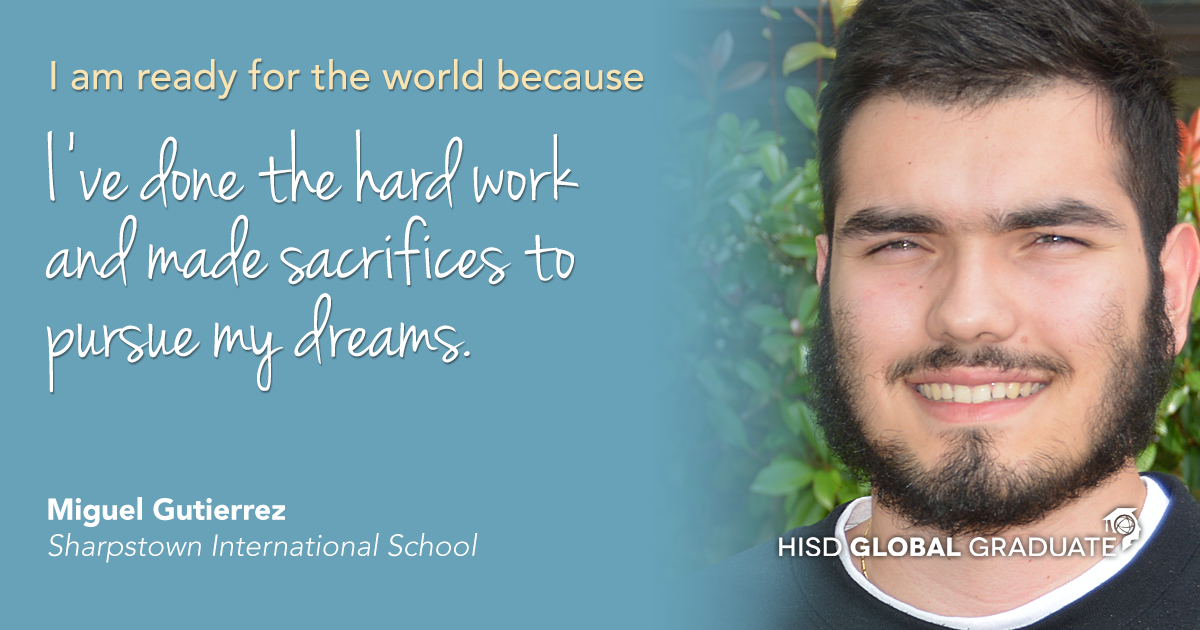 Take care of business.
That has been Miguel Gutierrez's mantra throughout his high school career, and it's been a philosophy that has served him well since leaving his parents behind in Mexico to fulfill his dreams here in Houston.
"At first it was hard, but they raised me to be a responsible person," said Miguel, who has lived with his older brothers the past four years. "I've paid attention in school because I know the opportunities are worth it."
A senior at Sharpstown International School, Miguel moved to Houston when he was 7. He attended elementary and middle school here before his family moved back to Mexico when he was 14, after his dad had a difficult time finding work in construction.
He studied a few years there before realizing that he wasn't being pushed to his full potential. He begged his parents to let him return to Houston, so he could focus more on academics. His brothers, who also work in construction, have supported and encouraged him to keep going.
"I've learned that time passes by fast, and you have to do things that will help you grow and benefit you and your future family," he said.
That drive and focus has led Miguel, a straight-A student, to pursue civil engineering at Texas A&M University in the fall. He had considered West Point and even paid the military academy a visit. But in the end, he wanted to be closer to his parents. He is receiving grants and a scholarship from law firm Vinson & Elkins to attend A&M.
But he doesn't plan to slack off on his studies or be distracted by college life.
"I'm not going to settle and be satisfied with the minimum amount of effort it takes to get by," Miguel said. "I'm driven to do the very best I can."
Sterling Aviation HS senior wants to inspire others to follow her path to success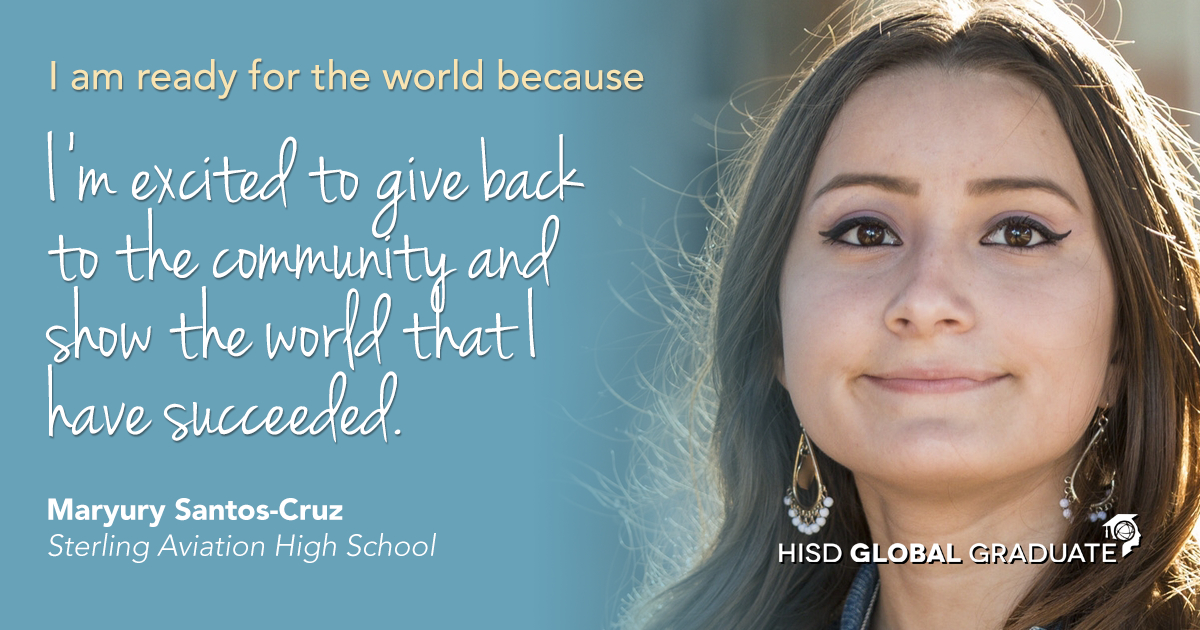 Maryury Santos-Cruz spoke no English when she arrived in the U.S. from Honduras at age 10. Eight years later, she is valedictorian of her class at Sterling Aviation High School.
She credits American television shows, nonstop reading, and the guidance of an effective middle-school ESL teacher with helping her overcome the language barrier.
"I was resilient. I never gave up," she says. "I believed in myself even if others didn't."
The National Honor Society member is graduating with a head start on college: an associate's degree in applied science logistics and global supply chain management from Houston Community College. She is heading to the University of Houston in the fall to major in pharmacy and puts "giving back to the community" at the top of her to-do list after high school.
It's something she has long made a priority.
As a OneGoal mentor, Maryury helps other students see their potential, encouraging juniors to think about college and their options for the future.
"I want them to see that there is more out there."
She encourages anyone struggling in school to finish what they started and "if you need help, go look for it. Find some mentors. You never know how much you can accomplish if you never try."
Maryury says her teachers in HISD gave her the tools she needed to succeed, emphasized the importance of education and always offered her encouragement to do better. And her parents were key to her success.
"I'm excited to make my family proud and show them everything they have done for me is worth it in the end."
Milby HS salutatorian overcame adversity through sheer determination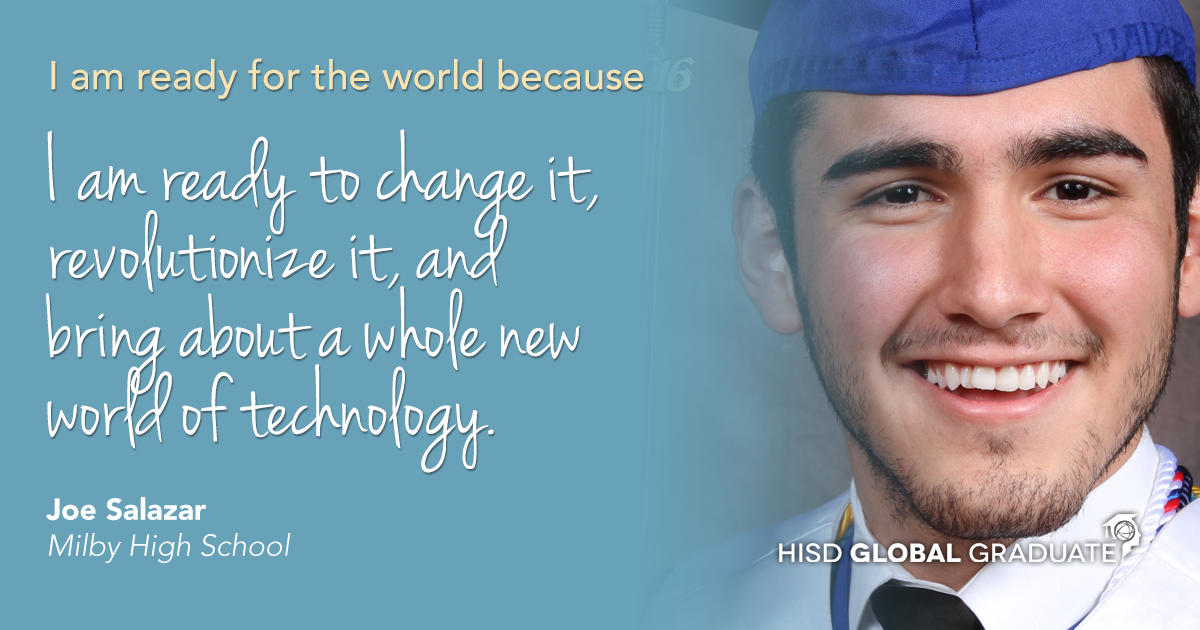 When Salutatorian Joe Salazar entered Milby High School, his studies lagged and he was without motivation.
That's when Sgt. First Class (Ret.) Eric Hopkins and Col. (Ret.) Charles Benson stepped in with a new challenge — Milby's JROTC program.
"They really were a big part of my life," Joe said. "By using military customs and discipline, they helped me break away from shyness and made me challenge myself."
The two JROTC instructors weren't the only ones who took notice of the future biomedical engineer.
Though they had three kids of their own, his godparents Laura and Raul Gutierrez, took him in for two years and continued to give support. His best friend, Arturo Alejandro, became the brother he'd always wished he'd had, and they pushed each other to be the best they could be. Now Arturo has a full scholarship to LeHigh University.
"I really want to thank everyone who has helped me throughout. These people helped me understand the true value of family, not just by blood. How true family are those who are loyal to you and are there for you to the very end," Joe said.
Milby teachers gave him the structure and support that he needed to start taking his studies seriously.
Joe's teacher, Christen "Brooke" Skeen, pulled Joe aside and told him that if he just applied himself, he could even be his class valedictorian or salutatorian.
Though Joe doubted it at first, her words gave him a goal. He would graduate near the top of his class, go to college, and one day, help  mobility-hindered people through bio-medical engineering.
So far, Joe Salazar has exceeded that goal. His list of school firsts is inspiring — first to receive a full scholarship at the college of his choice, first to go to Boys State and place, the Rotary Club of Harrisburg scholarship and a Citgo scholarship.
He will go Colby College in Maine on a full scholarship from Questbridge as part of a dual-degree program. He will spend four years studying there, then two years at Columbia University.
Joe Salazar wants to thank everyone else who has helped him throughout high school, whether they be related by blood or by heart. A special shout-out to Wanda Wamsley, for her love and support.