HISD's Procurement Services has been honored with the 2016 Achievement of Excellence in Procurement Award  from the National Procurement Institute. HISD is one of a select group of school districts in the U.S. to receive this award, which recognizes excellence in the field.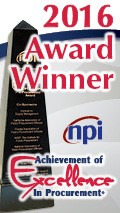 Procurement Services is made up of a team of experts who facilitate everything related to the purchasing of materials and supplies for HISD. This prestigious award acknowledges the team's support of HISD students, faculty, and staff. Procurement Services will be recognized at the 48th Annual NPI Conference, which takes place Oct. 9-12 in Colorado Springs, Colorado.
"I would like to thank everyone on the Procurement Services team for their achievements and service to our district," Procurement Officer Rick Gay said. "This is one more indication that our staff members are dedicated to becoming the premier K-12 procurement platform in the nation."
Procurement Services also won the Outstanding Agency Accreditation Achievement Award last fall from the National Institute of Governmental Purchasing, which recognizes the purchasing office as a leader in the public procurement profession. See complete story here.
"Congratulations to Rick Gay on being recognized by these two organizations," said HISD Interim Superintendent Kenneth Huewitt, "and thanks to the entire procurement team for their professionalism, productivity, and innovative practices."