New resources and training part of $9 million state grant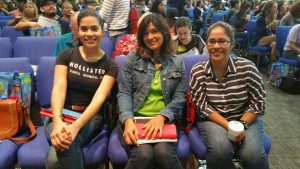 HISD Pre-K teachers recently gathered to learn new strategies, share best practices, and discover a new districtwide resource they can use to support the home-school connection.
Over 600 teachers from across the district attended HISD's Prekindergarten Saturday Summit on Oct. 8. The half day of training and professional development was kicked off by HISD Superintendent Richard Carranza, who told the crowd that he prefers to address them as "early educators."
"You play a critical role in providing Houston's children with a strong educational foundation, not just for kindergarten but for their entire lives," Carranza said.  "You are the SWAT team at HISD. You use special weapons and tactics to create life-long learners."
In addition to Carranza, teachers heard from Dr. Pam Schiller, author of the Frog Street Pre-K curriculum program used by HISD, and were introduced to ReadyRosie, an interactive tool that provides daily activities for adults to do with children age 0 to 6. The activities are simple, take about two minutes, and help prepare children for success in school.
Every HISD Pre-K teacher has been given access to a ReadyRosie share account where they can add parents and connect them to the students their classroom.  In addition, any HISD parent or guardian with a child or children ages zero to six can register for ReadyRosie at www.readyrosie.com/register.
Once registered, parents will begin receiving weekly emails and or text messages with videos and activities. The free subscription also allows parents to access the entire ReadyRose video database and download the ReadyRosie mobile app for their iPhone or Android device.
The Pre-K Summit and ReadyRosie program are part of a $9 million state grant HISD has received to build upon its already successful full-day district Pre-K programming. As a recipient of the High-Quality Prekindergarten grant, HISD will expand its Pre-K teacher training opportunities, increase teacher qualifications, and develop quality family engagement plans.